Buon giorno bimbe,
Un adorabile bugiardo
di
Lauren Rowe
è il libro di cui vi parlo oggi. Si tratta del primo romanzo, in arrivo il
21 giugno
con
Newton Compton
, di una nuova serie di stand alone che ci racconterà le storie dei quattro fratelli Morgan. Chi sono i fratelli Morgan? Avete presente Kat Morgan, la protagonista degli ultimi tre libri della serie The Club? La bionda Party girl che sposa il Playboy Josh Faraday? Ecco, questi libri ci raccontano le vicende dei suoi quattro fratelli maschi e sono in pratica spin off della serie che ci ha allietato l'anno scorso e ci ha fatto conoscere questa simpatica e frizzante autrice californiana, diventata amica delle lettrici italiane, autrice che molte di noi potranno incontrare all'imminente evento del RARE a Roma. La serie inizia con questo romanzo che ci racconta la storia di Ryan Morgan, detto il Capitano, secondogenito della famiglia, agente immobiliare e tatuatissimo playboy dall'anima sensibile. La sorte una sera lo fa incontrare con la donna più bella che lui abbia mai visto, La Donna, quella creata per il suo Per sempre, ma una serie di equivoci e incomprensioni la fa allontanare e lui passa mesi a cercarla invano. Finché non arriva il momento di partire per le Hawaii per celebrare il matrimonio di sua sorella con Josh e non se la ritrova davanti senza preavviso. Scopre così che è Theresa Rodiguez, detta T-Rod, l'assistente personale del suo quasi cognato, e che è furiosa con lui e decisamente infastidita dalla sua presenza.. ma i Morgan sono caparbi e non mollano mai..Volete sapere come il Capitano riuscirà a catturare la sua adorata Moby Dick? Allora venite con me in paradiso..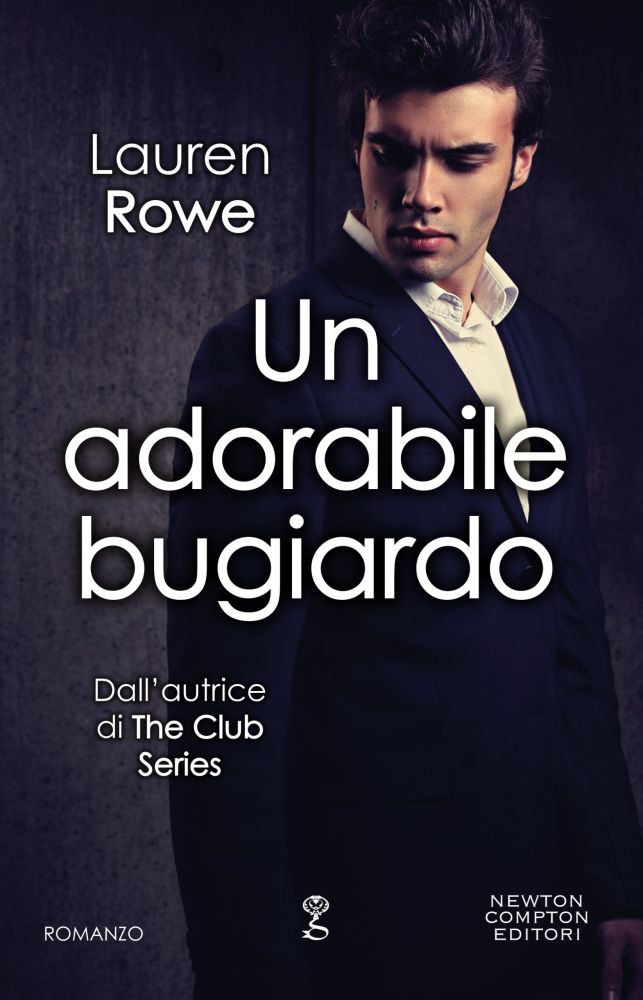 The Morgan Brothers series
1.
Un adorabile bugiardo
, 21 Giugno 2018
2. Ball peen hammer
3. Hero
4. untitled
Autore:
Lauren Rowe
Editore:
Newton Compton
Genere:
contemporary romance
Categoria:
odio\amore
Narrazione:
prima persona con pov alternati
Finale:
conclusivo
Penso che tu faccia impallidire le stelle
Ryan Morgan, agente immobiliare dall'indubbio fascino, tutto piercing e tatuaggi è il secondogenito della grande famiglia Morgan che lo ha soprannominato il Capitano; fratello maggiore di Kat, fidanzata con Josh Faraday e in procinto di diventare sua moglie, ha anche altri tre fratelli maschi, Colby, Keane e Dax, e una relazione ormai terminata con una ragazza troppo possessiva. Proprio la sera in cui la relazione finisce si ritrova in un bar ad attendere Josh mentre entrano due ragazze in divisa da hostess. Una di loro in particolare è di una bellezza folgorante, scura di occhi e di capelli, carnagione olivastra, fisico da urlo, Ryan rimane folgorato e parte immediatamente all'assalto per cercare di conoscerla e conquistarla, e inizialmente sembra riuscire nel suo intento, ma la sua freschissima ex irrompe in scena rovinando tutti i suoi piani e facendo scappare la bellezza bruna. Ryan è a pezzi, vuole ritrovare la sua sexy hostess ad ogni costo e sviluppa presto una vera e propria ossessione, ma i suoi tentativi di ritrovarla vanno a vuoto. Poi arriva il momento del matrimonio di Kat e Josh che si svolgerà alle Hawaii, dove gli invitati rimarranno per una intera settimana, e appena arrivato al resort il Capitano ha una sorpresa sconvolgente: c'è la sua misteriosa bruna, ma non è una hostess, è Theresa Rodriguez, l'assistente personale di suo cognato, ed è infuriata con lui e niente affatto felice di vederlo. Ma il Capitano Morgan non si fa scoraggiare, T-Rod è la donna della sua vita, solo che lei ancora non lo sa e lui dovrà impegnarsi per farglielo capire.
Ti ho vista e mi sono innamorato: dovevi essere mia. Ti appartengo, Tessa. Mente, corpo, cuore e anima.
Mie care Crazy, quanto mi piacciono i romanzi come questo delizioso Captain. Brioso, scanzonato, divertente, e al tempo stesso passionale e coinvolgente, l'autrice ci regala con questo romanzo una piccola perla del genere Rom Com, con protagonisti strepitosi, comprimari irresistibili, una ambientazione da sogno e le sue ormai celebri scene di sesso dall'erotismo intenso e disinibito. Il punto di forza sono certamente i personaggi principali, ma anche quelli secondari sono perfettamente incastrati nei meccanismi della storia che non ha alcun punto di cedimento, ti tiene incollata alle pagine dall'inizio alla fine e ti lascia con il classico sorriso ebete sulla faccia beata. Theresa detta Tessa o anche T-Rod, parafrasando il soprannome del famosissimo giocatore di baseball Alex Rodriguez chiamato da tutti A-Rod, è una di quelle protagoniste femminili che piacciono anche alle lettrici donne, di solito più propense ad entrare in sintonia con i protagonisti maschili. Efficiente, posata e sobria sul lavoro, una cocente delusione amorosa l'ha resa cauta verso gli uomini ma vuole fortemente il suo happily ever after, solo che non si fida del genere maschile e soprattutto non si fida di Ryan.
Mi immagino ad amarti, proteggerti e a fare della tua felicità sempre e comunque la mia priorità. E soprattutto mi vedo come l'uomo più fortunato del mondo.
Appena divamperà il fuoco della passione con il Capitano Morgan si trasformerà in una bomba sexy, accesa come un petardo dalle mani di questo magnifico esemplare di maschio che sembra conoscere ogni suo interruttore e che li sa accendere tutti allo stesso momento. La sua mente vuole combattere l'attrazione magnetica che la avvicina a lui ma il suo corpo la tradisce e alla fine non avrà altra scelta che innamorarsi. E vi dirò, mie care Crazy, che la capisco alla perfezione, perché il Capitano Ryan Morgan è così sexy, così irresistibilmente piacione, così sorprendetermente vecchio stampo in fatto di sentimenti che proprio non puoi resistere, come se non fosse sufficiente il fatto che ha gli occhi azzurri e un fisico spettacolare decorato nei punti giusti da tatuaggi e piercing per mandare le lettrici fuori di testa. Ma la cosa più intensa di questo libro è la chimica impressionante che l'autrice è riuscita a creare tra i suoi protagonisti, si percepisce l'ineluttabilità del loro essere destinati una all'altro, nessuno dei due riesce ad opporsi al prepotente campo magnetico che li avvicina e li fa unire come due calamite dai poli opposti, e il risultato sono scene di sesso dall'erotismo esuberante e passionale, che la Rowe è così brava a scrivere e descrivere. Un altro punto di forza sono i personaggi secondari, quelli che conosciamo già, come i gemelli Faraday e le loro mogli o Henn e Hannah, e quelli che impareremo a conoscere nei prossimi libri della serie, e in particolare Keane, il protagonista del prossimo libro, disinibito e fanfarone spogliarellista. Fresco, divertente, piccante al punto giusto, Un adorabile bugiardo è una ma ricordatevi di portare un ventaglio insieme al libro sotto l'ombrellone perché Ryan e T-Rod vi faranno alzare notevolmente la temperatura.


A presto. Zia D.