Buon giorno Crazy,
con i titoli
Ogni tuo desiderio
,
Tra le fiamme
e
Oltre i confini
torna in Italia, dopo la sua serie
Hacker
,
Meredith Wild
grazie a
Newton Compton
che pubblica la serie
Bridge
a partire dal
7 luglio con il primo titolo.
Si tratta di tre stand alone contemporary romance che raccontano le storie dei tre fratelli Bridge, a partire da quella del fratello maggiore Cameron, che ci viene raccontata in Ogni tuo desiderio. Cameron è un militare di carriera innamorato della sua fidanzatina del college, Maya, la quale però, oberata dai problemi familiari, rifiuta la sua proposta di matrimonio. Passeranno cinque lunghi anni divisi, lui all'estero a combattere una guerra anche personale e lei ad abbandonarsi ai suoi demoni. Vedremo come riusciranno a ritrovarsi. Nel secondo romanzo della serie, Tra le fiamme, conosceremo la storia di Darren, il secondogenito, pompiere donnaiolo che si butta con lo stesso impeto in un palazzo in fiamme o tra le gambe di una donna, finché non trova quella che lo farà capitolare, che è la wedding planner ingaggiata dal fratello maggiore perché organizzi il suo matrimonio. Nel terzo libro infine, dal titolo Oltre i confini, conosceremo la storia di Olivia, unica femmina della famiglia, che avrà il piacere di vedersela con due uomini i quali le sconvolgeranno completamente la vita, introducendola ai piaceri raffinati e un po' perversi del ménage a troi. Tre fratelli profondamente diversi, tre storie profondamente diverse, tre romanzi che potremo goderci a partire dal prossimo giugno se vogliamo portarci sotto l'ombrellone una lettura caliente e sicuramente ben scritta; pare che la pubblicazione dei tre libri sarà completata entro l'estate, quindi non ci resta che attendere un paio di mesi per tornare ad apprezzare lo stile raffinato di questa brava autrice che scrive ottimi libri erotici. Vi lasciamo con le trame tradotte dal team.
Serie Bridge
1.
Ogni tuo desiderio
, 7 luglio
2.
Tra le fiamme
, 26 Luglio 2018
3.
Oltre i confini
, 20 Agosto 2018
Autore:
Meredith Wild
Editore:
Newton Compton
Genere:
contemporary romance
Ogni tuo desiderio (On My Knees - Bridge #1)
Preoccupata per la responsabilità di prendersi cura della sua travagliata famiglia, Maya Jacobs ha dato l'unica risposta che poteva dare quando Cameron le ha chiesto di sposarlo. Anni dopo, strangolata da un lavoro che non le piace, si distrae dal persistente rimorso per la sua decisione con uno stile di vita che ha come motto "lavora duro, gioca ancora più duro" che le garantisce la sicurezza che nessun uomo troverà mai più la strada per il suo cuore.
Cameron Bridge ha trascorso gli ultimi cinque anni sposato con la vita militare, cercando di sfuggire alla dolorosa memoria di aver perso Maya. Dopo aver combattuto la sua personale guerra nel deserto, inizia una nuova vita a New York City, con i suoi fratelli, Olivia e Darren, al suo fianco.
Quando il destino gli riporta Maya proprio nel cuore della Città, così piena delle proprie ombre e delle proprie speranze, Cameron riuscirà a ritrovare la ragazza che ha amato un tempo nella donna che è diventata ora?
Tra le fiamme (Into the Fire - Bridge #2)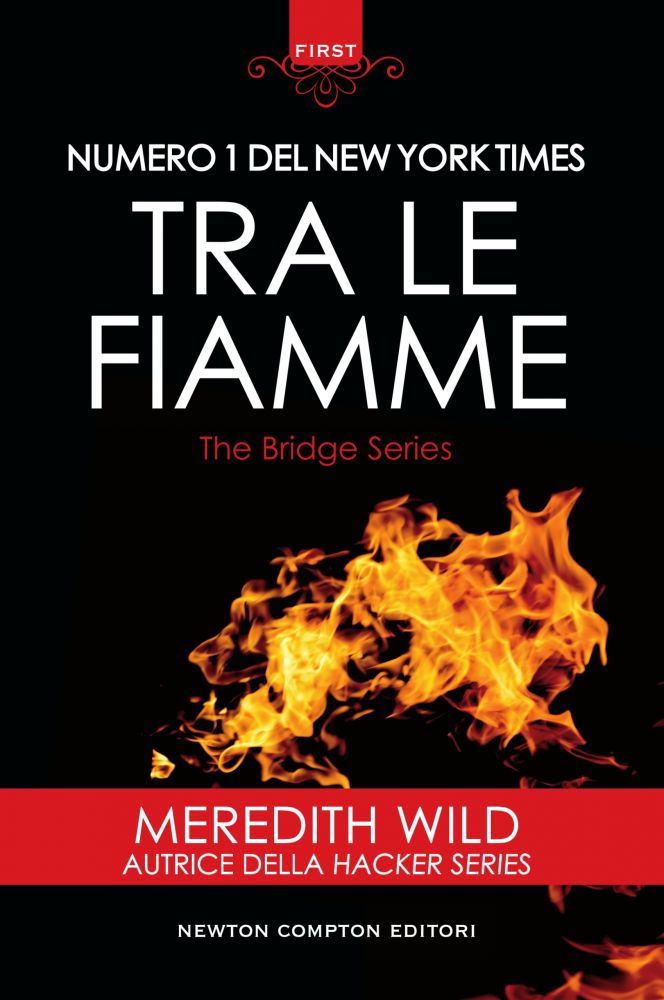 Darren Bridge sta vivendo il sogno di ogni scapolo. Quando non corre dentro ad edifici in fiamme con la sua squadra sta allenando il "gusto della settimana" nella palestra di suo fratello. Poche donne possono dirsi fuori dalla sua portata..finché non è arrivata Vanessa. Intelligente, bellissima, gambe lunghe chilometri, lei è diversa da ogni altra donna che abbia mai incontrato. Peccato che abbia giuratodi lasciarla in pace.
Oberata di lavoro e senza riuscire a vedere la luce in fondo al tunnel, Vanessa Hawkins non ha fatto un giorno di vacanza in due anni. Quando la destinazione del matrimonio di Cameron e Maya la porta ad uscire dall'ufficio per una strameritata pausa, si ritrova a lottare per resistere all'attrazione che sente per il testimone dello sposo. Darren è pericolosamente attraente con abbastanza fascino da far desiderare ad ogni donna a sangue caldo di abbassare le mutandine e godersi la cavalcata, non importa per quanto tempo.
Quando torna in città, Darren si rende conto che la vita del single ha perso il suo smalto. Ma con tutto il resto sul piatto, Vanessa non ha spazio per un uomo nella sua vita, in particolare se è un giocatore. Darren riuscirà a trovare la strada per il suo cuore e convincerla che per lui vale la pena rischiare?
Oltre i confini (Over the Edge -Bridge #3)
Olivia Bridge è sempre stata una brava ragazza, ottimi voti, buoni amici, e un buon lavoro che i suoi genitori benestanti le hanno lasciato perché lo gestisse. Decisa a ritagliarsi una vita che sia davvero sua, Liv si allontana da tutto e raccoglie la sfida di aiutare i suoi fratelli ad aprire una catena di centri benessere a New York City. Proprio mentre sta finalmente iniziando a trovare il suo ritmo nel nuovo posto, si trova alle prese con due uomini che non potrebbero essere più determinati a rivoltare sotto sopra tutta la sua bontà.
Will Donovan ha il capitale necesserario per far diventare i sogni imprenditoriali dei fratelli Bridge una realtà. Portarsi a letto la loro castigata sorella sembra un beneficio ragionevole per il rischio. Liv è la moralista più intelligente e sexy che Will abbia mai conosciuto, e non vede l'ora di farla crollare.
Ian Savo pensa che la vita sia troppo breve per giocare con le regole di qualcun altro. Condividere donne con il suo migliore amico non è qualcosa a lui nuovo, così quando Will lo presenta a Liv, non vede l'ora di poterla assaggiare anche lui. Ma innamorarsi della stessa donna, o innamorarsi del tutto, non era mai stato nei piani...