Buon giorno bimbe,
Il fratello della mia migliore amica
di
Kendall Ryan
è il libro di cui vi parlo oggi. Si tratta del primo romanzo di una nuova serie di stand alone contemporary romance dal titolo
Roommates
, compagni di stanza, dove ogni libro ci racconterà storie di coppie diverse ma tutte con dinamiche da coinquilini più o meno obbligati. Questo primo titolo ci racconta la storia di Paige, responsabile dell'ufficio risorse umane di una grande ditta, che si vede chiedere dalla sua migliore amica Allie un favore enorme. Suo fratello minore Cannon è momentaneamente senza un posto dove stare e ha bisogno di ospitalità per un po' di tempo. Paige si ricorda Cannon come un ragazzino nerd e appiccicoso che cercava sempre di stare con lei e la sorella quando erano adolescenti, non è preparata a quello che si trova davanti: un ventiquattrenne molto cresciuto, molto sexy e decisamente disinibito. Quanto tempo credete ci metteranno i due a ritrovarsi a ballare insieme il mambo orizzontale dal momento che Cannon, a quanto pare, ha una cotta per Paige da quando aveva dieci anni? Si accettano scommesse..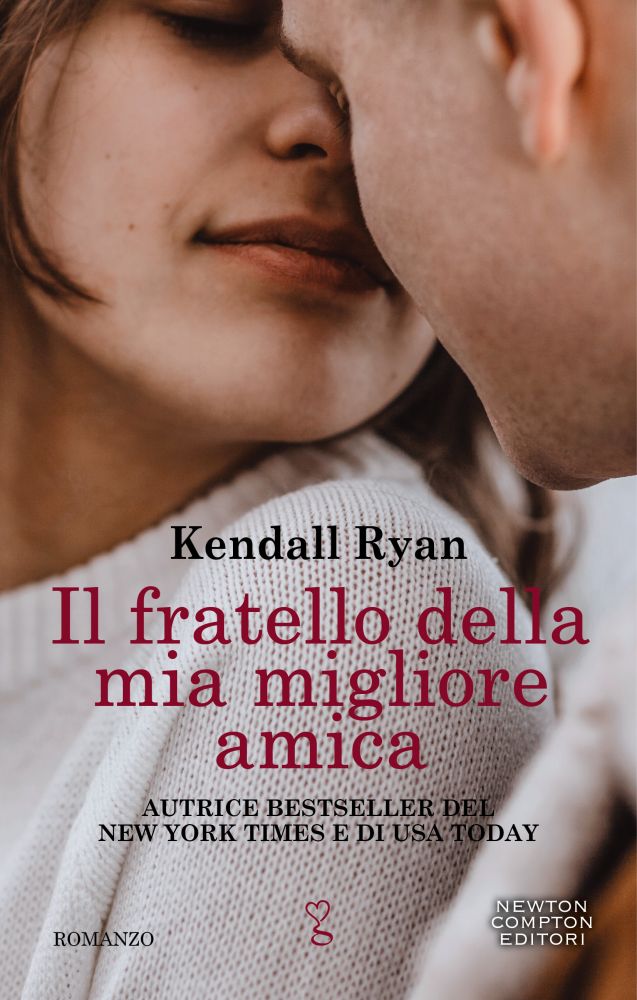 Serie Roommates
1.
Il fratello della mia migliore amica
, 1 Agosto 2018
2. The play mate
3. The house mate
3.5 The bed mate
4. The soul mate
Autore:
Kendall Ryan
Editore:
Newton Compton
Genere:
contemporary romance
Categoria:
friends to lovers
Narrazione:
prima persona pov alternati
Finale:
conclusivo
Se non ci proviamo, non lo sapremo mai
Cannon Roth è un giovane medico neo laureato che sta facendo tirocinio ospedaliero prima di decidere la propria specializzazione, è affascinante, simpatico, sexy, le donne non gli resistono, ma fino ad ora è stato sfortunato, ha attirato una serie di psicopatiche l'ultima delle quali è arrivata persino a devastargli la casa per vendetta dopo essere stata lasciata. Così ora ha bisogno di trovare una sistemazione per un paio di mesi, finché non terminerà il tirocinio, e poi lascerà la città per la specializzazione. Sua sorella Allie gli viene in aiuto e chiede alla sua migliore amica di sempre, Paige, di ospitarlo per un po'. Paige è sempre stata il sogno erotico di Cannon, fin da quando era ragazzino e lei frequentava casa sua per uscire con la sorella, è quindi con estrema gioia che il giovane medico accetta la proposta della sorella. Paige di contro viene praticamente messa davanti al fatto compiuto, solo che lei si ricordava un ragazzino pedante e un po' nerd, invece quando Cannon si presenta a casa sua si trova davanti un uomo molto affascinante, molto sexy e molto pericoloso per la sua tranquillità. I due inizialmente convengono di restare amici e soprattutto, di rimanere ognuno nella propria stanza, ma Cannon è un provocatore nato ed è decisamente molto disinibito, e per Paige, che è mostruosamente attratta da lui e viene da un lungo periodo di magra, è un diavolo tentatore. Quando una sera, complice l'alcol, Cannon le confessa di essere sfortunato perché alle donne basta fare sesso con lui una sola volta per innamorarsi e perdere la testa, lei coglie l'aggancio e gli dice di volergli dimostrare che non è vero, praticamente candidandosi a diventare la sua prossima partner sessuale. Il patto è: una sola volta e poi ognuno per la sua strada, ma sarà davvero così?
Mie care Crazy, la prima impressione che ho avuto leggendo questo libro è stata: l'ho già letto, o almeno, ho già letto un libro dalla trama davvero molto simile, poi mi sono ricordata che già Filthy beautiful lies aveva una trama che ricordava molto un altro libro celebre, e allora mi sono chiesta: perché questa autrice scrivi libri tanto simili a quelli delle sue colleghe? La trama è quasi la stessa di Un ragazzo d'oro di Lauren Blakely, lui medico, amici dall'infanzia, costretti a convivere per un certo periodo, attrazione fatale, piccolo dramma, lieto fine; non so quale dei due libri è uscito prima, e francamente non mi importa, ma mi viene naturale pensare che forse questo sta diventando un trend e che nel romance si sono ormai esauriti gli spunti originali per le trame e si stia cominciato a replicare sempre le stesse storie, gli stessi protagonisti, le stesse dinamiche.
Ti amo, principessa. Ti ho sempre amato. E ti amerò sempre. Ho combattuto questo sentimento per tantissimo tempo ma, ora che ti ho avuta così non posso tornare indietro. E non lo farò.
Questo libro non è poi brutto, non mi ha convinto la prima parte, ma da metà in poi fa un bel balzo di qualità e alla fine non mi è dispiaciuto, solo che una domanda nasce spontanea: ne sentivamo la mancanza? Forse no, sta di fatto che in giro c'è poi di peggio, tutto sommato, e se si passa sopra all'ostentazione un po' forzata della parolaccia, che però potrebbe essere opera della traduzione, si può anche leggere, d'estate, sotto l'ombrellone, magari mentre sbirciamo da lontano il bel bagnino muscoloso o il paparino sexy nel lettino accanto al nostro. Come vi dicevo la storia è tutt'altro che originale, i personaggi li abbiamo già visti in altri cento libri, la bella e seria donna in carriera dalla vita sentimentale inesistente, il giovane dottorino sexy, disinibito e piacione che pensa di essere il regalo di Dio alle donne, l'amica invadente, il cagnino randagio che in questo caso sostituisce il felino come compagno di solitudine, il collega che dispensa consigli e la mamma che fa altrettanto, non c'è nulla di nuovo sotto il sole. E non solo gli elementi base non sono originali, l'autrice non è riuscita nemmeno a valorizzarli, a farli emergere da dietro il sipario dell'ovvio, non volano e rimangono a terra con le ali tarpate, senza riuscire ad esprimere tutto il loro potenziale.
Paige, niente di quello che è successo tra di noi è stato un errore.
La cosa che mi ha colpito è la differenza tra i primi capitoli e il resto della storia: tanto scontata, scialba e inutilmente volgare la parte iniziale, tanto intrigante, interessante e piacevole la seconda, come se non le avesse scritte la stessa persona, anche la caratterizzazione dei due protagonisti segue lo stesso schema e questa è una cosa che ancora non mi spiego, sta di fatto che, alla fine, devo fare la media tra la pochezza dell'inizio e la buona qualità del resto della storia, che comunque non decolla mai verso alte vette, nonostante la sensualità delle scene di sesso e il netto miglioramento della trama. La lettura di almeno metà libro è comunque molto piacevole, ma questa autrice non è riuscita nemmeno stavolta a colpirmi, così come era successo con la sua precedente serie, devo rimandarla di nuovo, sperando che la prossima volta il prodotto sia meno scontato e più originale.
A presto,
Zia D.