Carissime crazy,
è uscito il
28 luglio
grazie a
Newton Compton
,
Tutto per una notte
, il primo romanzo di una nuova sexy serie, opera di
Chelle Bliss
. I protagonisti sono tutta la famiglia Gallo, composta da padre, madre e cinque figli: quattro sexy maschioni e una ragazza. A ciascuno di loro è dedicato un libro e questo primo ci presenta il più grande dei fratelli Gallo, Joseph, detto Joey in casa e City per gli amici. Trovare lui è come pescare il biglietto vincente di una lotteria, o ottenere un invito al ballo del Principe azzurro…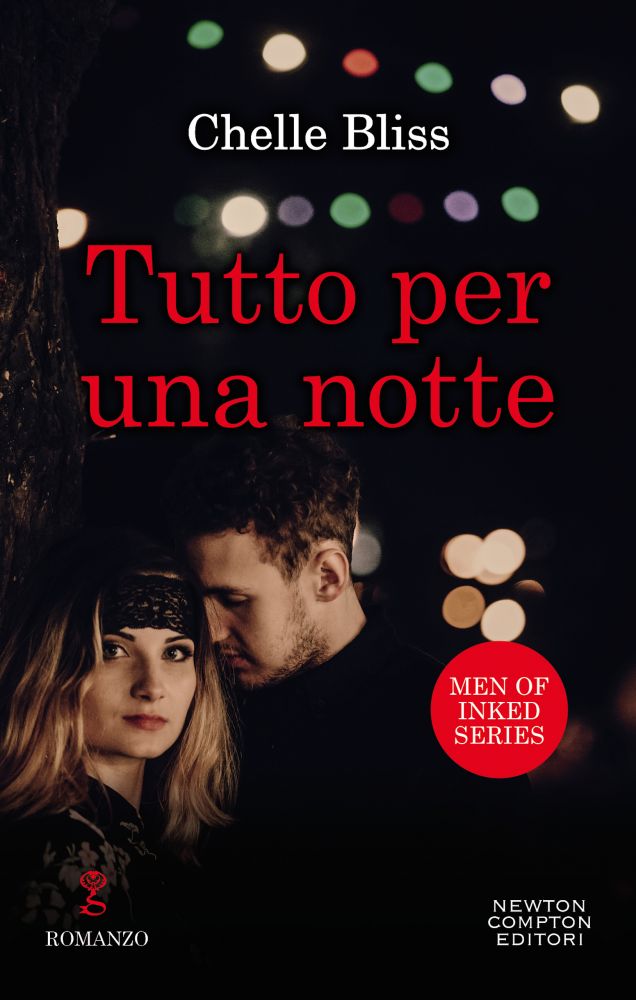 Men of Inked Series
0.5 The Gallos
1.
Tutto per una notte
, 28 Luglio 2019
1.5 Throttled
2. Hook Me, prossimamente
2.5 Resisting
2.75 Rebound
3. Resist Me, prossimamente
4. Uncover Me, prossimamente
5. Without Me, prossimamente
6. Honor Me, prossimamente
6.5 Christmas Novella
6.75 Delusion
7. Worship Me, prossimamente
Autore:
Chelle Bliss
Editore:
Newton Compton
Genere:
Contemporary romance
Narrazione:
prima persona, POV alternato
Finale:
autoconclusivo
Suzy è una maniaca del controllo. La sua vita è pianificata in ogni dettaglio e lavora sodo per trovare l'uomo giusto con cui costruire il suo lieto fine. Ma i suoi piani vengono bruscamente interrotti quando un incidente d'auto la blocca sul ciglio di una strada deserta. A salvarla arriva il più improbabile dei principi azzurri: un motociclista tatuato con una pessima reputazione.
City ha rinunciato all'amore da quando il suo cuore è stato spezzato. Chi avrebbe mai potuto immaginare che un incontro casuale nel bel mezzo di una strada buia gli avrebbe fatto rimettere tutto in discussione?
Una notte di passione potrebbe risvegliare in entrambi il desiderio di abbandonare i preconcetti e avventurarsi oltre i loro stessi limiti...
Me ne stavo lì come un cervo illuminato dai fari…
Effettivamente Suzy per tutta la durata del romanzo mi è sembrata proprio un cervo illuminato dai fari, fermo in mezzo alla strada e incapace di prendere qualsiasi decisione. Maniaca del controllo? Dalla descrizione dovrebbe essere una donna di ventinove anni, insegnante di matematica in un liceo, molto capace e sicura di sé, ma piuttosto invece pare un'adolescente alle prese con la tempesta ormonale e le prime cotte. Anche se incontra un faro che avrebbe investito qualunque donna con grande prepotenza: Joseph Gallo, detto City, bello come un sole nero, pieno di piercing e tatuaggi, a cavallo di una Harley lucida e potente. Impossibile sfuggirgli.
Però insomma, leggendo di una donna come Suzy si ha l'impressione che debba avere rispetto e considerazione di sé, mentre lei non esita a farsi trascinare immediatamente a bere in un locale e poi a letto (anzi è lei a chiederlo) da un perfetto sconosciuto. Il caso ha poi fatto sì che fosse l'uomo migliore del mondo, ma la cosa in sé fa un po' storcere il naso. E siamo solo all'inizio di quello che potrei definire un libro-tango, ovvero una storia dove si balla un passo avanti e uno indietro dall'inizio alla fine della storia.
City-Joseph Gallo ha l'aria tipica del bad boy oscuro e dannato, ma si rivela da subito un uomo buono e tenace, primo di una nidiata di fratelli e molto legato alla famiglia, di origini italiane. Abituato a storie di una notte e via, sente facilmente che Suzy è diversa da tutte le donne con cui è stato in precedenza. Come faccia a sentirlo non è dato saperlo, ma non formalizziamoci.
Suzy invece, che apparentemente è una metodica professoressa tutta di un pezzo, detto dalla sua migliore amica e nonostante l'impressione che ne abbiamo sia completamente opposta, si butta a capofitto su un uomo che dovrebbe farle solo paura, salvo poi fare un passo indietro la mattina dopo perché "potrei innamorarmi". Volevo mettermi a piangere.
Le donne, la causa del male nel mondo. Se la figa non fosse stata così dannatamente perfetta ci avrei rinunciato per l'eternità.
Questo è un commento esasperato fatto da City e… come dargli torto?
Non fraintendetemi però, questa non è affatto una brutta storia, perché ci sono anche molte belle pagine, intense, come quando City e Suzy si lasciano andare ai rispettivi ricordi e paure, o divertenti, come nei momenti di complicità o sfottò tra i fratelli Gallo, che gestiscono tutti insieme lo studio di tatuaggi di City, o i pranzi a casa di mamma e papà Gallo, simpatici e affettuosi, dove tutti si prendono bonariamente in giro.
Mi ha colpito anche molto la bella amicizia tra la protagonista e Sophia, l'unica capace di mettere un po' di sano buonsenso nella testa piena di paure e preconcetti di Suzy.
Qualche volta la vita non ci dà quello che stiamo cercando, ma ci dà quello che ci spetta.
Forse il problema principale è stato quello di far partire troppo presto le cose tra i due protagonisti, togliendo succo alla trama e riempiendola poi di passi a vuoto per giustificare un finale. Dando un'occhiata alla serie della Bliss su Goodreads, ho notato che tra tutti i libri questo primo è quello meno "stellato" nelle recensioni, è probabile quindi che anche la mia impressione, non del tutto positiva questa volta, migliori con i prossimi della serie. Sarebbe un vero peccato non leggere le vite di tutti i fratelli Gallo.
Dimenticavo di dire che l'incidente d'auto cui si fa menzione nella sinossi, non esiste. L'auto di Suzy si ferma e City le viene in soccorso. Non c'è nessun incidente.
A presto,
Cri