Care Crazy,
Oggi vi parlo di
Game of Love
di
Claire Contreras
, sport romance autoconclusivo uscito il
9 Agosto
, edito
Newton Compton
. Farete la conoscenza di Warren Silva, calciatore di fama mondiale che torna dopo moltissimi anni dalla sua famiglia a New York e si imbatte in Camila Avila, giovane psicologa/architetto che sta per essere sfrattata dal suo appartamento.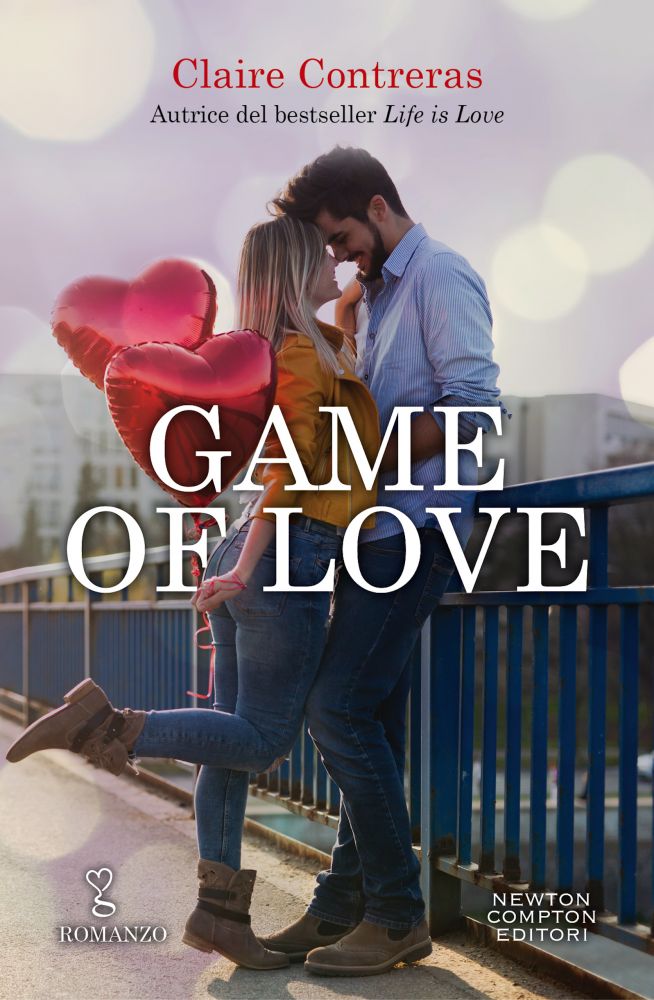 Titolo:
Game of Love
Autore:
Claire Contreras
Editore:
Newton Compton
Data:
9 Agosto 2019
Genere:
Contemporary Romance
Categoria:
Sport Romance
Narrazione:
Prima Persona, Pov doppio
Finale:
Conclusivo
Warren Silva è tornato a New York dopo anni in cui la sua carriera stellare di calciatore lo teneva impegnato in Europa. È uno degli uomini più ammirati e desiderati al mondo e non vede l'ora di sbrigare una fastidiosa faccenda familiare per tornare alla sua vita perfetta – fatta di donne e auto di lusso – che lo aspetta oltreoceano. Ma Warren non si aspettava di incontrare qualcuno come Camila. Nel momento in cui i loro occhi si incontrano, capisce che niente sarà mai più come prima.
Camila è una donna forte e indipendente. Lavora come architetto in un'associazione benefica e mette sempre il bene degli altri al primo posto. Nonostante le scintille che volano durante il suo primo incontro con Warren, Camila sa bene che i loro mondi sono troppo distanti per dare retta all'attrazione che prova per lui. Warren, però, è molto più testardo di quanto lei possa immaginare...
Warren Silva è un calciatore di fama mondiale, all'apice del successo, gode di tutti i privilegi della sua condizione, tra lusso, auto costose e donne in ogni città. E la vita gli sembra perfetta così. Dopo aver lasciato la sua famiglia per anni però, è costretto a ritornare in America a causa dell'insorgere di alcuni problemi.
Anche Camila era abituata ad un certo tenore di vita, ma ha dovuto imparare presto a farne a meno quando la sua famiglia ha perso tutto.
Ancora una volta si ritrova a dover affrontare delle difficoltà in quanto la società che possiede il suo stabile ha deciso di demolire tutto per ristrutturare. Camila sa che non c'è molto che possa fare al riguardo ma non si arrenderà senza combattere e sarà proprio ad una riunione con i dirigenti che incontrerà Warren, uno degli azionisti della società.
Warren rimane immediatamente folgorato dalla ragazza e comincia ad inseguirla, diventando sempre più determinato ad ogni rifiuto che la ragazza gli propina, non essendo ovviamente abituato a riceverne.
I mondi da cui provengono i due protagonisti non potrebbero essere più distanti, eppure a volte le apparenze possono ingannare e forse se si soffermassero a guardare meglio potrebbero scoprire di avere diverse cose in comune.
Avrei voluto chiedere ai clienti del bar di uscire, così non avrebbe avuto altra scelta che guardare me.
Il rapporto tra noi lettrici e le scrittrici, o meglio i romanzi delle scrittrici, è un po' come una relazione. Ci deve essere feeling, deve scoccare una scintilla. E sono costretta purtroppo a dire che tra me e questa scrittrice la scintilla non vuole proprio scoccare.
Ci ho provato con un precedente romanzo e ho ritentato con questo ma non c'è stato niente da fare, tra noi due non è amore.
Ho trovato la storia lenta, poco scorrevole e piuttosto scontata, una combinazione che si è rivelata fatale per me. Forse semplicemente è lo stile dell'autrice che non è nelle mie corde.
Avevo capito esattamente cosa sarebbe successo e dove sarebbe andata a parare la storia fin dalle prime pagine. In generale questo non sarebbe un problema, in fondo il genere romance è pieno di storie scontate, ma se combiniamo questa cosa ad una narrazione poco scorrevole diventa ancora più difficile trovare la voglia di continuare a leggere. E ci si ritrova a far fatica a proseguire come è successo a me.
«La vita è breve. Siamo qui solo per inseguire dei momenti di vita. Tanto vale rendere quei momenti memorabili».
«Quindi scegli di lasciar correre?»
«Scelgo di continuare a vivere».
Nonostante le mie impressioni, non ho dato un voto basso a questo libro, l'ho fatto perché so essere obbiettiva e voglio scindere i miei gusti personali dalle qualità oggettive del libro. Resta comunque un libro ben scritto, coerente e con uno stile proprio della scrittrice, che può non aver colpito me ma che comunque piace a tantissime lettrici.
I personaggi sono ben caratterizzati e il mondo dello sport resta sempre un'ambientazione affascinante in cui muoversi.
Spero che questo libro possa conquistarvi e che tra di voi scocchi quella scintilla che purtroppo a me è mancata.
Un bacio,
Patty