Ciao bimbe,
Big rock di Lauren Blakely
è il libro di cui vi parlo oggi. Inizia con questo romanzo la serie-non serie di stand alone di cui fa parte anche
Un ragazzo d'oro
, pubblicato lo scorso anno da
Mondadori
, e che prevede altri quattro romanzi, tutti stand alone collegati tra loro, dove i protagonisti maschili, che sono tutti amici o parenti, ci raccontano le loro storie d'amore in prima persona, ricreando l'atmosfera libertina e spensierata di Sex and the City ma tutta al maschile.
Qui a narrare le sue vicende amorose è Spencer Holiday, figlio del proprietario di una celebre catena di gioiellerie del paese e imprenditore lui stesso. Spencer è uno dei più famosi donnaioli di New York, sempre sulle pagine dei tabloid con donne diverse, scapolo impenitente e refrattario ai sentimenti, ma ora dovrà cercare di tenere chiusa la lampo dei pantaloni per un po', perché suo padre ha bisogno di avere al fianco un figlio serio per chiudere una importante transazione d'affari. E se Spencer per aiutare il padre chiedesse aiuto alla sua migliore amica e socia d'affari Charlotte Rhodes? Magari fare finta di essere fidanzati potrebbe tornare comodo anche a lei.. Che ne dite? Pronte a tornare nella Grande mela e conoscere la storia di Spencer e Charlotte?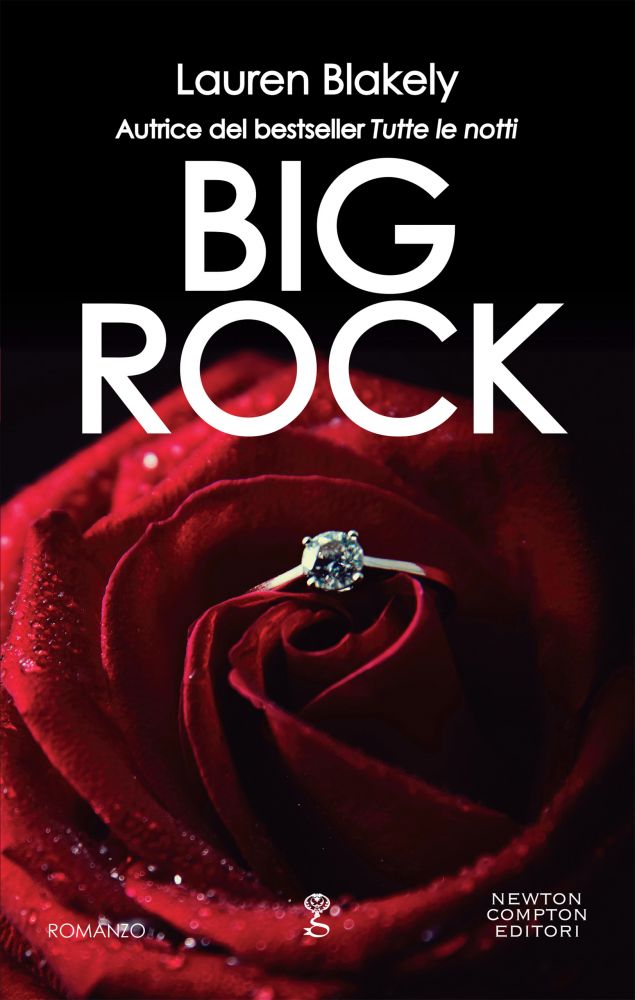 Serie Big Rock
1.
Big Rock
, 21 Febbraio 2019
2. Mister O, prossimamente
3. Well Hung, prossimamente
4.
Un ragazzo d'oro
, 13 Febbraio 2018
5. Joy Ride, prossimamente
6. Hard Wood
Editore:
Mondadori/Newton Compton
Autore:
Lauren Blakely
Genere:
Contemporary romance
Categoria:
friends to lovers
Narrazione:
prima persona pov maschile
Finale:
conclusivo
Non c'è dubbio che Spencer Holiday sia uno dei più apprezzati esemplari di scapolo impenitente di tutta New York. È estremamente bello, considerevolmente ricco, affascinante, simpatico e intelligente, l'equivalente umano di un bel brillante grande e grosso, ma è refrattario agli impegni e salta da una femmina ad un'altra con estrema spensieratezza. Suo padre, proprietario di una rinomata catena di gioiellerie, deve concludere un importante affare con un compratore decisamente all'antica che crede nei valori della famiglia e nella serietà, così, per aiutare il genitore, decide di mandare in vacanza la sua libido per un po' e indossare il costumino da bravo ragazzo. E per questo ha avuto una grande idea: chiedere aiuto alla sua socia in affari e migliore amica Charlotte Rhodes. Loro due sono amici da anni e si conoscono alla perfezione, non c'è migliore candidata di lei per diventare la sua finta fidanzata per una settimana; il tempo di far firmare il contratto all'amato genitore e poi ognuno per la sua strada, e magari, nel frattempo, lui potrebbe aiutarla a liberarsi di un ex fidanzato insistente e molesto che non vuole saperne di lasciarla in pace. Charlotte accetta la proposta di Spencer e i due iniziano così a far finta di essere fidanzati, ma Charlotte è bella e sexy, una creatura seducente e al tempo stesso familiare, e Spencer fa sempre più fatica a mantenere platonica la loro finta relazione, ma è troppo spaventato dalla possibilità che, se tutto diventasse reale, potrebbe significare la fine della loro amicizia. Ce la farà a resistere alla tentazione?
L'anno scorso quando uscì Un ragazzo d'oro vi ho sicuramente detto, mie care Crazy, che adoro lo stile frizzante e sbarazzino che Lauren Blakely ha usato per questa serie scritta tutta al maschile, e dopo la lettura di questo Big Rock non posso fare altro che ribadire questo concetto. In questa serie l'autrice statunitense, che avevamo apprezzato per la bella scrittura coinvolgente nella saga erotic romance Seductive nights, ci dimostra che il suo notevole talento è ben espresso anche nelle rom-com, dove da sfoggio di una scrittura che sembra fatta apposta per divertire, scanzonata, impertinente e piccante. È particolarmente brava a farci entrare nella testa del protagonista maschile e farci vivere le vicende con i suoi occhi e con il suo cuore, ce lo fa conoscere prima un po' sbruffone e pieno di sè, gaudente playboy amante della vita e delle donne, poi figlio e fratello devoto e amorevole, disposto a tutto per compiacere la sua famiglia, e infine candidamente arrendevole di fronte ai sentimenti che presto inizia a sentire per la sua amica del cuore, quasi incredulo, spaventato dalla possibilità di non essere ricambiato.
Siamo legati. Non guarda altrove e io non potrei neanche se ci provassi. Nei suoi occhi vedo tutto quello che non avevo mai saputo di volere. E adesso ne ho bisogno.
Spencer è adorabile e risulta simpatico a pelle, all'istante, anche quando fa lo spaccone all'inizio, ma diventa assolutamente irresistibile quando perde la testa per Charlotte, completamente in balia dei sentimenti e degli ormoni. Attraverso i suoi occhi apprezziamo e amiamo anche l'oggetto delle sue attenzioni amorose, una ragazza che è la sua versione femminile, simpatica, spudorata e irresistibile. Charlotte è decisamente la mezza mela di Spencer, i due ragazzi sembrano nati per stare insieme, e la loro evoluzione da amici ad amanti è così fluida che sembra un processo naturale, qualcosa che non poteva andare diversamente. Accanto ai due protagonisti si apprezzano già quelli che saranno i personaggi principali del prossimo romanzo, Mister "O", ovvero Nick, il migliore amico di Spencer e Harper, sua sorella, coppia che promette altrettante scintille amorose.
Adoro ogni cosa nell'universo, e sono il bastardo più felice del mondo adesso, qui, in questa stanza, con la donna di cui mi sono innamorato.. Ho infranto la regola più importante. Mi sono innamorato della mia migliore amica.
Big rock è un romanzo relativamente breve, che si legge tutto di un fiato, scorrevole e accattivante, e questo, per me, è uno dei suoi punti di forza. Infatti se un romanzo del genere fosse stato sovraccaricato di fronzoli inutili, descrizioni infinite o paranoie mentali non necessarie avrebbe inevitabilmente suscitato nei lettori l'effetto "brodo allungato", rischiando alla lunga di annoiare invece che divertire. Questo non accade perché l'autrice è stata perfetta nel bilanciare la trama a discapito della lunghezza del libro in se, attenta a raccontare nel modo giusto la giusta quantità di avvenimenti senza strafare, equilibrando il racconto e confezionandolo in maniera adeguata. Del resto, non dimentichiamolo, è un uomo che ci fa vivere la sua storia attraverso i suoi occhi, non è che possiamo pretendere troppe parole... ovviamente scherzo, ma vi assicuro che leggere Big rock è stato un bel vaggio, breve ma intenso e divertente, e alla fine, come scrivevamo nei temi sulle gite domenicali alle elementari, ti lascia felice e per una volta, per niente stanco, ve lo consiglio senza alcun dubbio.
A presto.
Zia D.