Ciao Crazy!
Oggi vi parlo di
Per una notte d'amore
di
Chelle Bliss
, secondo volume della serie
Men of Inked
.
Siete pronte per un altro giro in casa Gallo? Dove una famiglia d'origine italiana è alle prese con le vite indaffarate di quattro figli maschi e una femmina, uno più scatenato dell'altro? Avevamo conosciuto Joe, il fratello motociclista, ora è la volta di Michael Gallo, atleta professionista della MMA, il campionato di arti marziali miste, che in America è uno degli sport più seguiti.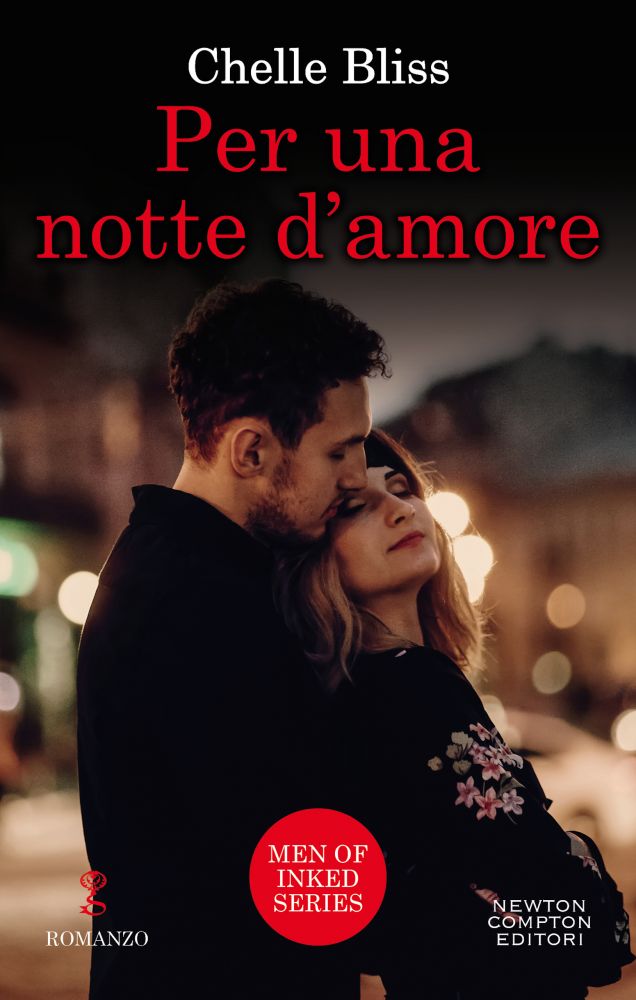 Men of Inked Series
0.5 The Gallos
1.
Tutto per una notte
, 28 Luglio 2019
1.5 Throttled
2.
Per una notte d'amore
, 20 Settembre 2019
2.5 Resisting
2.75 Rebound
3. Resist Me, prossimamente
4. Uncover Me, prossimamente
5. Without Me, prossimamente
6. Honor Me, prossimamente
6.5 Christmas Novella
6.75 Delusion
7. Worship Me, prossimamente
Autore:
Chelle Bliss
Editore:
Newton Compton
Genere:
Contemporary romance
Narrazione:
prima persona, POV alternato
Finale:
autoconclusivo
Michael Gallo ha una missione: vincere il campionato di arti marziali. Di giorno lavora in uno studio di piercing, ma trascorre tutto il suo tempo libero ad allenarsi duramente. Sa bene che il suo obiettivo può essere raggiunto solo con impegno e forza di volontà. Ma un imprevisto stravolge i suoi piani: l'incontro con la dottoressa Mia Greco, infatti, fa vacillare tutte le sue convinzioni. Mia ha dedicato la sua vita a occuparsi di chi ha più bisogno. Il suo altruismo la spinge a mettere costantemente gli altri al primo posto e non ha tempo per concentrarsi sul proprio cuore. Il destino, però, sembra intenzionato a tenere il pugile e la dottoressa molto vicini...
Sapevo che ogni maschione della famiglia Gallo aveva molte frecce al proprio arco, ma Michael è forse quello che ha le frecce più... incredibili! Ogni colpo scoccato da lui va a segno e i suoi bersagli sono perfino contenti di essere colpiti!
Al di là dello scherzo, questo secondo volume della serie Men of Inked ha avuto maggiore presa su di me perché convince e conquista di più. Michael è un atleta dell'MMA americano e prende il suo allenamento e i suoi incontri molto seriamente. Non sfrutta fama e fisico per pavoneggiarsi e rimorchiare in giro, ma naturalmente è bello e muscoloso come un dio greco e le donne... be', gliela tirano dietro al suo passaggio, se mi concedete l'espressione. E questo potrebbe anche diventare un problema per Michael...
Mia è una dottoressa che Gallo conosce al pronto soccorso, dove lui viene ricucito dopo un incontro particolarmente brutale. Tuttavia la loro storia inizierà più avanti, quando si incontreranno come due ragazzi qualunque che si conoscono all'interno di un locale in una serata qualsiasi.
Le cose facili non mi sono mai piaciute. Per tutta la vita ho affrontato scelte difficili e sfide che mi hanno permesso di ottenere soddisfazioni sempre più grandi.
I due sono gli opposti della medaglia, il lato giusto e quello sbagliato di una stessa azione, attratti certamente l'uno dall'altra come il polo negativo e quello positivo. Eppure entrambi sono attenti e maniacali nel loro lavoro. Ma quello di Michael è per Mia un lavoro "barbaro".
È l'opposto del mio lavoro. Io aiuto le persone e le guarisco, mentre tu le ferisci.
Sarà difficile trovarsi d'accordo su qualcosa, con queste premesse, a parte l'innegabile attrazione che rende bollenti molte pagine. E se vi intriga, c'è anche una parte suspense verso la fine.
Possiamo essere d'accordo sul fatto che non siamo d'accordo?
Michael e Mia sono due personaggi che potranno piacervi molto, se vorrete conoscerli!
Buona lettura.
Cri