Ciao ragazze,
Perfetto con troppi difetti
di
Samantha Towle,
è il titolo ufficiale della novella conclusiva della
The Storm series
e uscirà in Italia il
21 Agosto
grazie alla
Newton Compton
. Dopo il successo dei primi volumi,
The bad boy, The Wild Boy
e
Lover Boy
,
dopo esserci innamorate della rock star più "bad" del romance, e aver conosciuto la storia di Lyla e Tom, e ora di goderci l'ultima avventura di Jake e Tru.
Sul primo volume di questa serie,
The bad boy,
tantissimo è stato detto e scritto al punto da farne una lettura must per le amanti del genere romance (se non ne sapete ancora nulla, trovate di seguito la recensione di Valentina alla versione americana). La serie
The Storm
però prosegue con altri due volumi e una novella: il secondo, che in Italia si chiamerà
The Wild Boy
, continua a parlarci di Tru e Jake e di come prosegue la loro vita e la loro relazione. Il terzo volume,
Taming the storm,
invece cambia protagonisti e ci racconta di Tom e una new entry della storia, Lyla. Infine, l'anno scorso è uscita una novella conclusiva della serie che torna su Tru e Jake... insomma la Towle ci terrà compagnia ancora per un po' e noi ne siamo ben felici!
Ecco la trama dei tre volumi della serie e l'originale recensione di Valentina che per prima ci parlò di The Mighty Storm (in Italia, The Bad boy).
1. The bad boy, 30 giugno 2016
2. The Wild Boy, 24 gennaio 2017
3. Lover Boy, 18 Settembre 2017
3.5 Perfetto con troppi difetti, 21 Agosto
Casa Editrice:
Newton Compton
Genere:

Contemporary Romance
Tru Bennet aveva solo quattordici anni quando il suo migliore amico e suo primo amore Jake Wethers si trasferisce dall'Inghilterra in America rompendole il cuore. Ora dodici anni dopo Jake è la rockstar della band più importante del pianeta, i MightyStorm ed è il cattivo ragazzo che ogni ragazza sogna, tutte eccetto Tru. Giornalista di successo che si occupa di musica, riceve la proposta di una vita: intervistare Jake prima che inizi il tour mondiale. Tru cerca di prepararsi all'intervista in maniera professionale, ma niente la può preparare alle scintille che volano quando i loro occhi si incontrano. Jake vuole che lei li raggiunga in Tour per scrivere del loro backstage, ma c'è solo un problema: Will, il ragazzo di Tru. Riuscirà la loro storia a resistere a Jake, il più famoso donnaiolo del mondo? O lei darà una seconda possibilità a chi già l'ha lasciata?
The Wild Boy
Tru Bennett, giornalista che si occupa di musica, è riuscita in un'impresa impossibile: conquistare il
cuore di Jake Wethers, il tipico bad boy, famosa rockstar. Ora stanno progettando il loro matrimonio e una nuova vita insieme negli Stati Uniti. Naturalmente a Tru manca Londra e la sua migliore amica, Simone, ma vivere per sempre con Jake a Los Angeles è fantastico… no? Sbagliato. Perché essere una coppia celebre può avere conseguenze pesanti: dirigenti musicali avidi, paparazzi dietro l'angolo, il passato di Jake sempre in agguato. E a peggiorare le cose arriva la decisione di Jake: non intende avere figli, sarebbero solo il modo per dire addio al suo successo. Tru ama Jake più di ogni altra cosa, ma quando una crisi minaccia di distruggere tutto quello che hanno costruito, la coppia deve confrontarsi con la realtà: e se l'amore non fosse sufficiente?
Lover Boy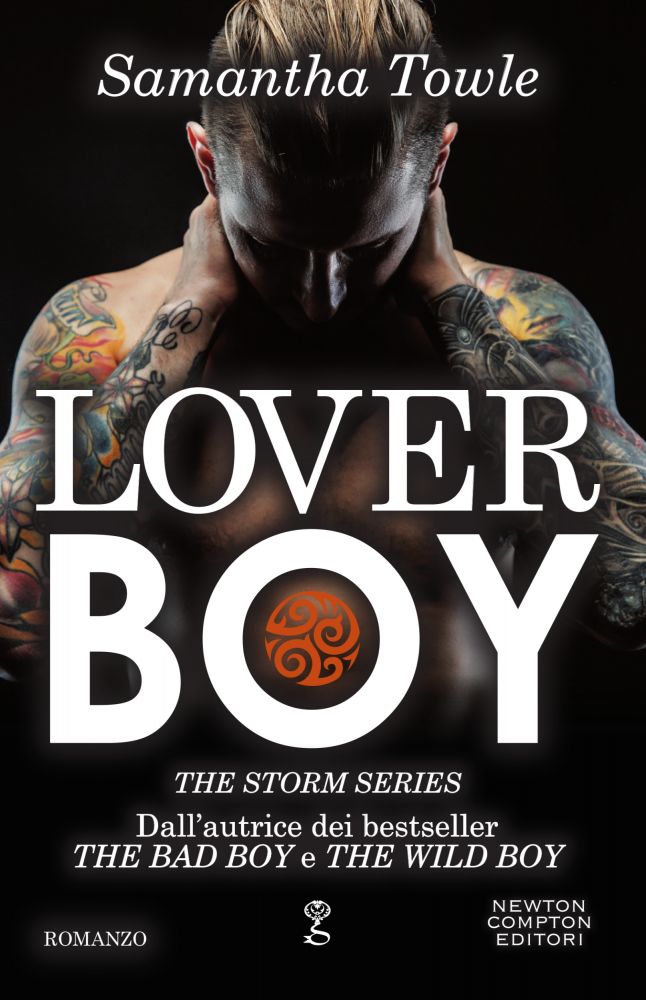 Lyla Summers odia gli uomini. Va bene, forse odiare è una parola forte ...Lyla prova un intensa avversione per gli uomini.
Suo padre l'ha delusa per tutta la vita. Suo fratello l'ha tradita nel modo peggiore possibile. E le sue relazioni passate con gli uomini sono state meno che grandiose.
Lyla concentra tutte le sue energie nella sua band, i Vintage, così quando ricevono un'offerta per firmare con la TMS Records, sembra che le cose stiano finalmente girando per il verso giusto. L'ultima cosa che non vuole è un uomo sulla sua strada.
Tom Carter ama le donne. Va bene, amore potrebbe essere esagerato ... Tom si diverte a scopare un sacco di donne.
Quando una tragedia si abbatte sul suo migliore amico, Tom si ritrova a fare una promessa al "grande uomo dei piani alti" – lui cambierà il suo modo di vivere, se salverà la donna che il suo migliore amico ama. La preghiera di Tom viene esaudita. Ora lui deve cambiare. Questo significa non andare a letto con tutte.
Dopo che il manager dei Vintage si rompe la gamba sciando, Tom subentra come manager del tour, e Lyla si ritrova in tour con l'uomo-prostituta del rock.
Mettere insieme un Tom perennemente arrapato e una Lyla che vuole resistere al sesso, equivale alla ricetta per un disastro. O almeno così si potrebbe pensare ...
Ma si forma un'amicizia inaspettata. Un' intimità che nessuno dei due si aspettava. Mettendo alla prova una cintura di castità e un arrapato che è al disperato bisogno di sfogarsi.
La tempesta di sesso che è Tom Carter, alla fine si ritroverà domata dal pulcino rock con un cuore indurito, o lui tornerà ai suoi modi da donnaiolo ...?
Perfetto con troppi difetti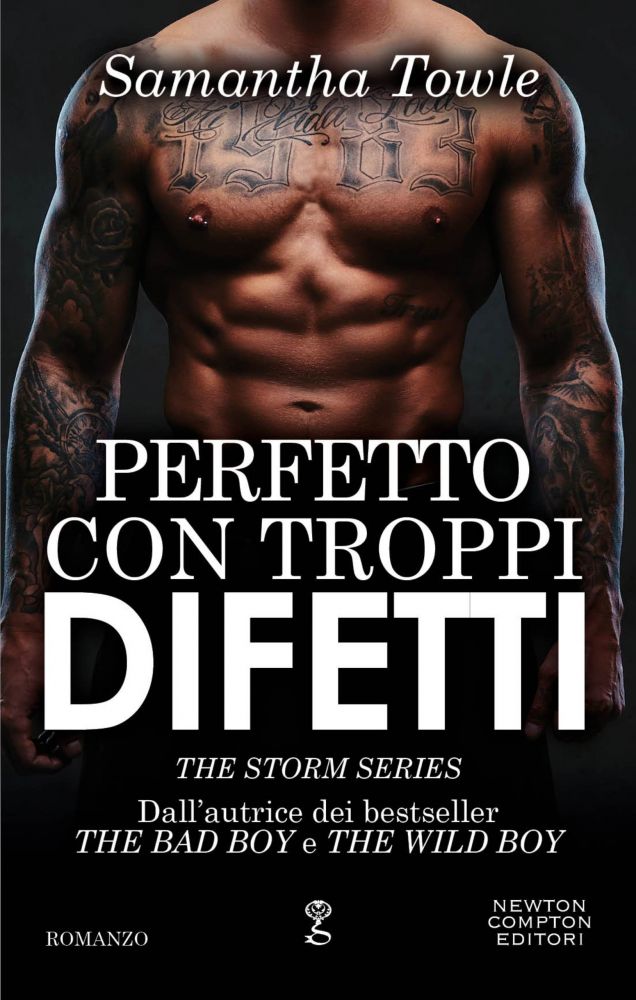 La vita di Jake Wether è perfetta. Ha sposato la donna di cui è sempre stato innamorato e adesso è padre di tre meravigliosi bambini. I Mighty Storm vanno forte e la casa discografica è fiorente. Jake ha letteralmente tutto: la vita che non ha mai nemmeno osato sperare di avere, perché temeva di non meritarla. In effetti, ci sono stati molti momenti oscuri e la morte del suo migliore amico, Jonny Creed, ha rischiato di trascinarlo in una spirale di disperazione. Ma poi è arrivata Tru e ogni cosa è cambiata. Quello che Jake non sa è che il passato ha strani modi di ripresentarsi. E la sfida che i suoi demoni stanno per riportare alla luce potrebbe essere la più difficile che abbia mai dovuto affrontare.
La parola a Valentina
Oggi vi parlo di un libro che mi è rimasto nel cuore:
The Mighty Storm
di
Samantha Towle
che prossimamente uscirà in Italia, primo volume della "
The Storm Series
" dove i primi due volumi sono sulla coppia Tru e Jake, il terzo è su Tom, uno dei componenti della band: si ragazze perchè qui si parla di Rock Star!
Prima di iniziare con la recensione fatemi rifare l'appello alle Case Editrici: vi prego pubblicate questi libri. Non so se si è capito ma questa storia mi è rimasto nel cuore. Ogni volta che ci penso, inizio a sospirare. Probabilmente starete pensando che sarà la stessa storia con triangoli, sesso e musica. Sì in parte avete ragione, ma non avete fatto i conti con Jake.


Lui è uno di quei personaggi che ti rimane dentro, che ti fa anche sentire un po' triste perché non esiste veramente e tu non puoi toccare quei suoi bellissimi tatuaggi o non puoi guardarlo nei suoi magnetici occhi azzurri. Siete convinte, adesso, che è un libro che vale la pena di leggere? Ancora no? Allora vi dico che il nostro caro Jake non si farà problemi a intortare la nostra Tru in bagno, mentre lo sfigato del suo ragazzo è nella stanza accanto, ma è anche capace di conquistarti con le parole e con la musica. Naturalmente è ben fornito, tanto da avere come soprannome cobra. Quello che più mi ha colpito di lui è però la sua fragilità, che sarà il punto focale nella seconda parte del libro. Conquistare Tru non gli sarà tanto difficile, imparare a convivere con i propri demoni e debolezze per dimostrarle che lei è l'amore della sua vita sarà tutta un'altra cosa. Tru è una ragazza indipendente, forte, sicura di sé ma che nulla può contro il fascino del dannato del nostro rocker. Ha le idee chiare, da questo punto di vista è l'opposto di Keira del Frutto Proibito, ama moltissimo Jake ma ha anche un profondo rispetto per sé stessa e per la sua carriera a cui non è pronta a rinunciare. I personaggi secondari sono caratterizzati alla perfezione, menzione speciale va a Stuart, il segretario di Jake ma che in realtà è una figura fondamentale per la sua vita, e lo diventerà anche per Tru.
È certamente un libro dalle grandi emozioni, leggendolo è come stare sulle montagne russe, quando pensi che finalmente andrà tutto bene, e tu puoi tirare un po' il fiato, Tru o Jake fanno qualcosa e si ritrovano a compiere passi indietro. Non vi dico come finirà, perché spero davvero che un giorno riusciate a leggerlo perché questo è un libro da avere in libreria per i protagonisti, per la loro storia d'amore, per lo stile di Samantha Towle coinvolgente dalla prima all'ultima riga.
Un bacio,
Valentina
Salva
Salva