Ciao Crazy,
oggi in anteprima vi parliamo de
L'Incantesimo della spada
di
Amy Harmon
, primo capitolo della serie
The Bird and the Sword Chronicles
, in uscita il 5 Luglio con la Newton Compton Editori. La Harmon si è cimentata nel mondo del fantasy e ci ha regalato un romanzo originale ma di altri tempi. Se siete curiose di scoprirne di più, non vi rimane che proseguire la lettura.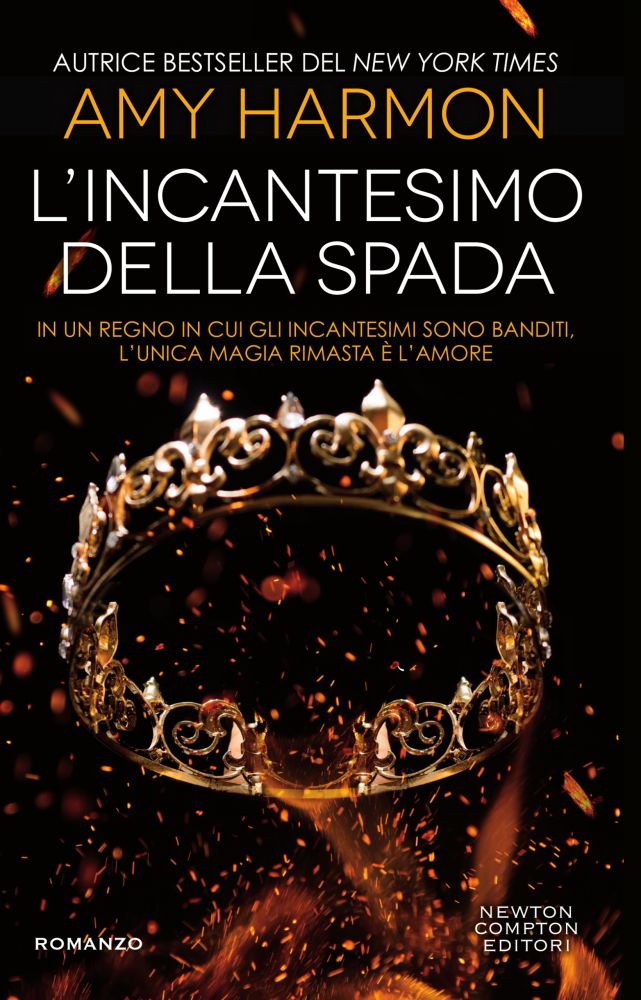 The Bird and the Sword Chronicles
1.
L'incantesimo della spada
, 5 luglio 2018
2. The Queen and the Cure (inedito in Italia)
Autore:
Amy Harmon
Editore:
Newton Compton Editori
Genere:
Fantasy romance
Categoria:
magia, storico
Narrazione:
1° persona, pov femminile
Finale:
No cliffhanger.
«Deglutisci, figlia. Ingoia le parole, bloccale nel profondo della tua anima. Nascondile, chiudi la bocca sul tuo potere. Non maledire, non curare. Non parlerai, ma imparerai. Silenzio, figlia. Rimani viva».
Il giorno in cui mia madre è stata uccisa, ha detto a mio padre che non avrei mai più pronunciato una sola parola e che se fossi morta, lui sarebbe morto con me. Predisse anche che il re avrebbe venduto la sua anima e avrebbe ceduto suo figlio al cielo. Da allora mio padre attende di poter avanzare la sua pretesa al trono e aspetta nell'ombra che tutte le parole di mia madre si avverino. Desidera disperatamente diventare re. Io voglio solo essere finalmente libera. Ma la mia libertà richiede una fuga e io sono prigioniera della maledizione di mia madre tanto quanto dell'avidità di mio padre. Non posso parlare o emettere suoni. Non posso impugnare una spada o ingannare un re. In un regno in cui gli incantesimi sono stati banditi, l'unica magia rimasta potrebbe essere l'amore. Ma chi potrebbe mai amare… Un uccellino?
Un'autrice bestseller del New York Times e di USA Today
Nella lotta per il potere nel regno, una madre si sacrifica, bloccando le parole di sua figlia per salvarle la vita
«Le sue storie sono sempre emozionanti e commoventi e i suoi libri sono romanzi da non perdere.»
USA Today
«Una scrittura vivida e meticolosamente curata, questo libro è un'avventura romantica avvincente, intrisa al tempo stesso di fantasia e passione.»
«Sono stata piacevolmente colpita da questo fantasy che segue lo schema di una storia romantica: meravigliosamente riuscito.»
Sigilla la tua bocca e il tuo potere..
Silenzio, e in vita resterai.
Le sono state tolte le parole per salvare la sua stessa vita, ma per Lark tutto ciò che la circonda grida "vita" in silenzio: a causa del suo stesso dono, le sono venute a mancare non solo le parole, ma anche la sua libertà: ormai tenuta in gabbia dal padre (timoroso per la sua vita, indissolubilmente legata a quella di sua figlia), Lark non ha altro che il suo "sentire" ciò che la natura le sussurra.
Ma un uccellino (Lark tradotto è Allodola), una volta uscito dalla gabbia ed assaporata la sua libertà, non può tornare indietro.
In un mondo governato da un giovane re, in guerra con dei mostri volanti che minacciano di distruggere Jeru, la piccola allodola viene portata via dalla sua gabbia per entrarne in un'altra più grande. Ma il destino di Lark è diverso da ciò che si aspetta. Infondo si sa, "da grandi poteri derivano grandi responsabilità" e questo vale anche per un piccolo uccellino.
Una storia che ci porta in un altro mondo e in un altro tempo, a sperare e combattere al fianco di Lark, che si ritrova ad affrontare situazioni difficili e pericolose, con un potere in attesa di essere utilizzato e con parole in attesa di essere liberate.
Sembra una timida, impacciata e debole piccola donna, ma non è mai stata lasciata sola ad affrontare il suo destino. Questo fino a quando sulla sua strada non incontra re Tiras. Un giovane uomo che trasuda forza, intelletto e sicurezza.
"A lui era stata insegnata ogni parola di cui aveva bisogno, mentre a me ogni singola parola era stata strappata via."
Sono l'uno l'estremo dell'altro, cosa potrebbe mai volere Tiras da Lark se non il suo potere?
"Avevo donato le mie parole a un uomo che poteva usarmi."
Tra intrighi di corte, guerra contro i mostri volanti, lotta a coloro che "posseggono il dono", Tiras e Lark si guarderanno con altri occhi ed i confini tra dovere, potere, piacere ed amore saranno difficili da distinguere.
Care lettrici, se il fantasy non è il vostro genere, probabilmente questo libro non catturerà la vostra attenzione: questo è bene sottolinearlo, perché nonostante la Harmon sia stata molto brava a calarsi in questo mondo, chi non è attratto da queste ambientazioni storico-fiabesche, intrise di magie e misteri, difficilmente si lascerà portare via dalla lettura di questo libro.
Per chi ama il genere invece, non c'è via di scampo: la storia di Lark entra nell'anima, stuzzica la curiosità, lascia che sia quell'atmosfera di magia a trascinarci nella lettura. Lark e le sue parole non dette, quelle che è capace di trasmettere, quelle che sente e quelle che solo re Tiras riesce a captare.
E anche se.. Continuava a prendere, esigeva persino, intrecciato alla sua forza c'era qualcosa di più dolce. Qualcosa di cui avevo bisogno, e ne avevo bisogno da lui. L'animo sensibile di Lark le permette di arrivare dove altri faticano o non riescono, questo comprende anche arrivare al cuore di Tiras.
All'improvviso
il desiderio aveva un sapore.
Il sapore di un re: un uomo bellissimo, che incuteva terrore,
un uomo irritante che era volato nella mia vita
e aveva cominciato a liberare le mie parole.
Da parte di Tiras c'è un mondo di emozioni celate e senso del dovere, perché un re buono, un re giusto, è quello che serve il suo popolo prima di se stesso. "Senza il desiderio, c'è solo il dovere. Ma a volte il nostro desiderio più grande è fare il nostro dovere". Altro che principe azzurro, Tiras è un principe con gli artigli che ti porta via sul suo cavallo e ti rammenta quanto tu sia testarda. Ti dona le parole, una ad una, ma ti lascia senza. Due personaggi da amare e nei quali immedesimarsi per vivere una storia d'amore che oltrepassa i confini del fantasy.
Conosciamo bene la Harmon ed i suoi meravigliosi libri, ma posso dirvi che nel fantasy tira fuori uno stile diverso, molto più dettagliato e fluido. Questo genere richiede dei caratteri narrativi un po' diversi dal romance, e l'autrice si destreggia molto bene con tutti gli elementi a sua disposizione. Non solo lo stile e la narrazione fanno risultare la lettura scorrevole, ma è quell'ansia di leggere senza sosta, per terminare la storia e scoprire come va a finire, che rende la storia totalmente coinvolgente. La Harmon inserisce sempre argomenti particolari in ogni suo libro, qui c'è l'importanza della parola (intesa sia come "parola" sia come "voce"): Lark è muta, e lo è perché la sua parola è pericolosa (poiché intrisa di magia), le parole possono essere terribili quando la verità non è gradita, ma il loro potere lo si può comprendere meglio in silenzio. Questo libro porta con se una bella riflessione, non tanto sul problema di chi "non pronuncia" parole, ma del potere che queste hanno: di far del male o di alleviare il dolore, di salvare o di distruggere.
Non solo la storia mi è piaciuta tanto (ho cercato di non dire molto perché ha un suo ritmo che non posso rovinare con piccoli spoiler), ma è come se mi avesse lasciato un senso di completezza finale tale da volerne ancora un po'.
"Non c'è bisogno di ali per volare"
"E di cosa c'è bisogno, Figliola?"
Con affetto,
Cinzia