Carissime crazy,
è uscito ieri
Non guardarmi così
di
Roni Loren
, un romanzo davvero intenso e dalla partenza originale. Finn e Liv sono sopravvissuti anni prima ad un brutale attacco nel loro liceo. Sopravvivere però non sempre significa vivere, ed è ciò di cui si rendono entrambi conto in occasione di una commemorazione di quel tragico evento.
Sarà finalmente l'occasione per capire e andare avanti?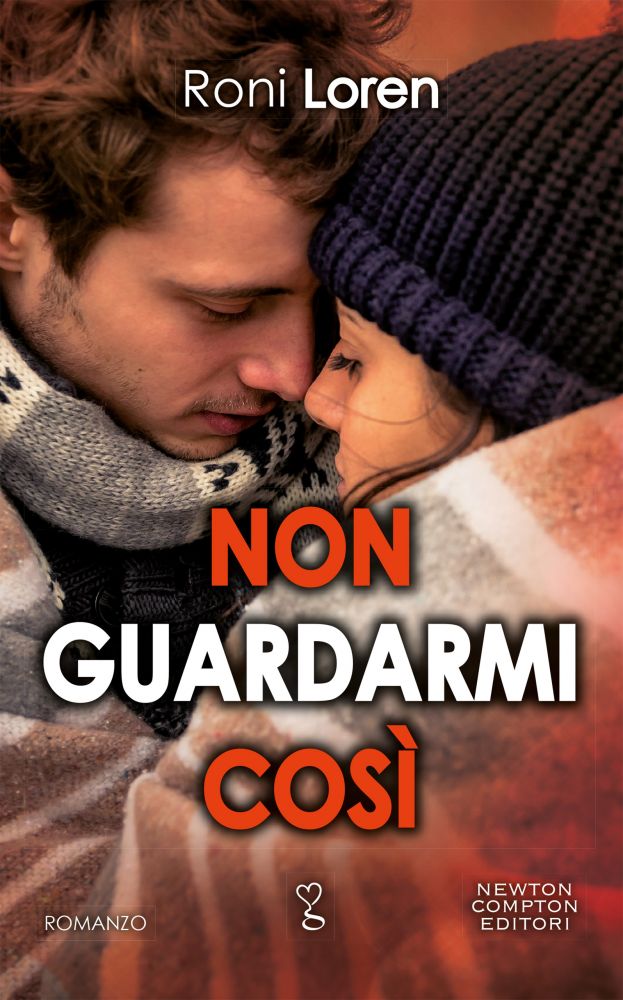 Serie The Ones Who Got Away
1.
Non guardarmi così
, 10 ottobre 2019
2. The one you can't forget
3. The one you fight for
4. The one for you
Autrice:
Roni Loren
Editore:
Newton Compton
Genere:
Contemporary Romance
Categoria:
seconde possibilità
Narrazione:
terza persona, POV alternato
Finale:
conclusivo
Sono passati dodici anni dalla mattina in cui tutto è cambiato per i ragazzi dell'ultimo anno al liceo di Long Acre. I pochi superstiti sono stati soprannominati dalla stampa "i sopravvissuti". Liv Arias non avrebbe mai pensato di fare ritorno a Long Acre dopo quello che era successo. Ma quando i produttori le chiedono di partecipare a un documentario su quegli eventi, Liv non riesce a dire di no. E così parte per il luogo in cui hanno sede tutti i suoi incubi, terrorizzata all'idea di rivivere quei ricordi. Anche gli altri "sopravvissuti" sono tornati. E tra loro c'è Finn Dorsey, il primo amore di Liv. Scoprire di provare ancora un'attrazione bruciante per lui non era previsto. Anche se Finn è molto diverso dall'affascinante giocatore di football di un tempo: la sua faccia si è indurita e nei suoi occhi verdi non c'è più la minima traccia di innocenza. Ritrovarsi sempre più vicini significa riaprire vecchie ferite, ma forse fidarsi l'uno dell'altra è l'unico modo per recuperare il coraggio di vivere.
Leggere il libro di Roni Loren mi ha illuminato su molti aspetti. Prima di tutto di essere una lettrice fortunata perché se scelgo con il cuore raramente resto delusa e sentivo che questo romanzo mi sarebbe piaciuto. Poi, che nessuno è al sicuro nella vita, e che nulla può trattenerti dal tuffarti di testa nel mare limpido. La paura non merita tanta considerazione, mentre l'opportunità di quello che puoi scoprire, provare, godere merita molto di più.
Infine, ultima ragione ma non ultima per importanza, tutti abbiamo un evento nel passato che ci ha "segnati" in qualche modo, ma non dobbiamo permettergli di segnare anche il nostro futuro. Quello ci appartiene, e spetta a noi, non al nostro passato, stabilirne il percorso.
Lo so, sembro un po' criptica, ma ho intenzione di spiegarmi meglio.
Non è un segreto per nessuno quanto io ami le storie complicate e drammatiche. Purché si arrivi alla fine a una soluzione, passerei insieme ai protagonisti pure attraverso l'inferno. E qui l'inferno Liv e Finn lo hanno vissuto davvero, e per certi versi lo vivono ancora, dodici anni dopo.
Beviamo via l'oscurità, Liv. Speriamo di poterla battere per un'altra notte.
Entrambi sono dei sopravvissuti, marchiati, etichettati, diversi e distinti dal resto del mondo. Sono quelli che avevano un passato e prevedevano un futuro, e di colpo hanno perso tutto, immobilizzati per sempre in un istante preciso. Vivere un disastro che ha causato la morte di molte persone e sopravvivere, ha causato in loro una sorta di senso di colpa nei confronti di chi non ce l'ha fatta. E li ha resi privi di passione, come se, vivendo a metà, privandosi della gioia e del divertimento, dovessero "scontare" una colpa che assolutamente non hanno, verso quelli che non possono più godere della vita.
Entrambi, inconsapevolmente, si sono buttati a capofitto nel lavoro dedicandogli ogni attenzione e energia, e mettendo in pausa, come congelati, tutti i sentimenti che provavano da ragazzini. Ma questa si può chiamare vita?
Potrebbe esserti utile un'amica che sappia di che colore è la vernice originale sotto tutti gli strati di cui ti ha ricoperto la vita. E forse aiuterebbe anche me.
Una storia di crescita, o meglio di rinascita, dalla paura che può attanagliare chi ha vissuto un trauma così grande o ha subito una grave e brutale perdita. Una paura che può essere superata solo accettando e accogliendo la fortuna di avercela fatta, di potersi appoggiare a un'altra persona e costruire ancora un futuro per noi stessi. Non smettendo di avere paura, perché anche questa è una sensazione che fa parte della vita e del "sentire", ma imparando a conviverci, senza far scegliere a lei la strada da seguire.
Ho adorato i dialoghi tra Liv e Finn, sinceri e a volte anche brutali, nel confessarsi debolezze e speranze. Ma ho amato anche le parole spese per difenderli dei loro amici. Perché se hai un amico che si butterebbe nel fuoco per te, vuol dire sempre che sei una bella persona, e meriti uno spicchio di felicità.
Se quello che state cercando è un romanzo per divertirvi e passare il tempo, forse allora non gradirete questa lettura così intensa. Ma se invece siete come me e vi piace lasciarvi trasportare e fermarvi a pensare a tutte le parole non dette che l'autrice sottintende, allora amerete questa storia.
Per conto mio, Roni Loren è una grande scrittrice e non mi lascerò certo sfuggire altri suoi libri.
Siamo sempre stati un casino, Livvy. E' questo che lo rende così bello.
Cristina