Ciao Crazy,
Oggi vi parlo de
Una principessa ribelle
, il nuovo libro della seguitissima
Jodi Ellen Malpas
, la creatrice del famoso Lord del maniero. Che in questo nuovo libro, primo volume della duologia The Smoke&Mirrors, parla di nuovo di nobiltà, anzi di veri e propri reali stavolta. L'autrice ha infatti scelto di parlare della famiglia reale più celebre del mondo, la famiglia reale d'Inghilterra e lo fa con una principessa fittizia, membro di una famiglia reale fittizia, che guida però la molto reale Inghilterra.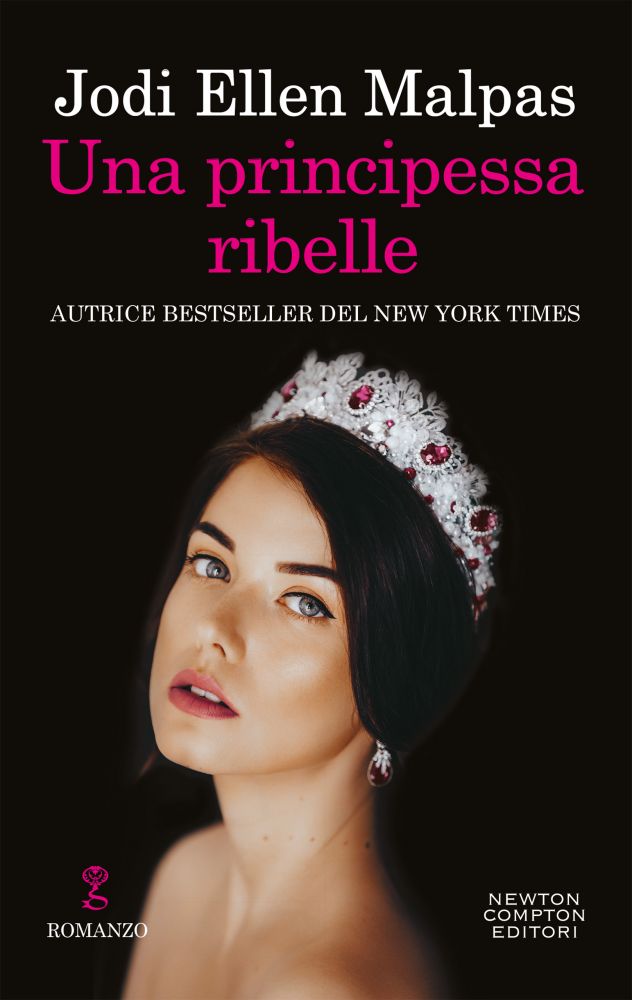 The Smoke & Mirrors Duology
1.
Una principessa ribelle
, 15 Ottobre 2019
2. His True Queen, prossimamente
Autore:
Jodi Ellen Malpas
Editore:
Newton Compton
Genere:
Contemporary Romance
Categoria:
Reali, D/s
Narrazione:
Prima persona, Pov femminile
Finale:
Cliffangher
Essere la figlia del re d'Inghilterra comporta numerose responsabilità. Ma la Principessa Adeline si rifiuta di piegarsi alle aspettative che il suo titolo porta con sé. Sa bene, infatti, che potere e privilegi vanno a braccetto con intrighi e menzogne di ogni tipo. Non si sente tagliata per un mondo fatto solo di apparenze, che le impone di sposare qualcuno che non ama. Nonostante faccia di tutto per proteggere la sua indipendenza, si sente schiacciata dai doveri e dalle responsabilità. Questo fino al giorno in cui Josh Jameson entra nella sua vita. Affascinata dai suoi modi diretti, Adeline è catturata dal magnetismo dell'attore dalla reputazione peggiore di tutta Hollywood. Josh, infatti, è diverso da chiunque altro abbia mai conosciuto e Adeline sente di poter finalmente essere sé stessa. Il guaio è che Josh non ha nemmeno una goccia di sangue blu. E c'è chi è disposto a fare qualunque cosa per tenerli lontani.
Ebbene sì, la "mamma" del lord del maniero è tornata, e stavolta ci parla di altra nobiltà, una nobiltà vera, quella Reale. Quella della famiglia reale di Inghilterra. Sinceramente non ho capito la sua scelta di un Paese che esiste davvero, quando poi ha dovuto inventare di sana pianta tutto il resto. Nomi e cognomi dei personaggi, i nomi delle varie residenze, cioè a questo punto tanto vale inventare anche il nome del Paese, come hanno fatto tante altre. Ma forse il problema riguarda me, che non amo particolarmente la commistione tra realtà e finzione, perché mi costringe quasi sempre a mettere in comparazione i particolari veri da quelli inventati.
…Io sono sempre in modalità ribelle. E ora quella modalità è alimentata da questo meraviglioso americano e dal costante fremito di piacere che mi fa provare.
A parte questo, quello che ho trovato davvero reale e verosimile e che mi ha conquistata è stato l'ambiente e la situazione in cui vive la nostra principessa Adeline. Non ho dubitato nemmeno per un momento che una ragazza nel sua posizione e col suo ruolo debba sottostare a tutte quelle regole, a tutte quelle limitazioni di libertà. Vista da fuori chi potrebbe pensare che la sua sia una vera e propria gabbia dorata? Eppure lo è. Adeline è uno spirito indomito a cui viene detto cosa fare, dove andare, come vestirsi, cosa dire e non dire, in ogni momento della sua giornata. Come dice lei stessa, la sua vita non le appartiene, la sua vita appartiene alla corona e al Paese.
E per questo motivo non è libera di sognare per la sua vita, di decidere cosa farne e cosa peggiore di tutte non è libera di decidere chi amare.
E poi ci sono io, che non ho nient'altro da fare se non sorridere, mostrarmi al meglio e chiacchierare della mia famiglia con chiunque voglia ascoltarmi. Sono utile solo a una cosa. Obbedire quando mi viene ordinato qualcosa.
Non ho potuto che affezionarmi irrimediabilmente a lei, ad una ragazza inventata che con la sua storia mi ha permesso di capire quanto è preziosa la libertà che ho, e che avete, e che ogni giorno diamo per scontata. Siamo libere di viaggiare come vogliamo, vestirci come ci piace, e non dobbiamo preoccuparci di paparazzi ad ogni angolo della strada, di giornalisti che ci analizzeranno al microscopio e giudicheranno ogni piccola imperfezione e ogni piccolo errore che commettiamo. Vista da questa prospettiva non è per niente una bella vita. Quando alla fine arriva Josh, non si può fare altro che tifare per la coppia, per questo barlume di felicità che il destino le ha concesso tramite questo stupendo e dominante attore americano. Ma purtroppo visto il finale in sospeso, dovremo aspettare un altro volume per poter vedere il loro atteso lieto fine.
Non posso biasimarlo, perché il sesso è sesso, e lui può avere qualsiasi donna desideri solo schioccando le dita, senza doversi prendere la briga di nascondersi e rischiare l'ira della monarchia britannica.
Devo dire che il mio rapporto con la Malpas non è dei migliori, non ho apprezzato tutti i suoi libri e tutti i suoi personaggi. Questo romanzo mi è indubbiamente piaciuto, purtroppo non ho dato un voto ancora più alto, a causa di quello che considero il vero difetto della scrittrice, è troppo prolissa. Il libro è abbastanza corposo e lungo, eppure ha concentrato diversi avvenimenti e rivelazioni tutti nelle ultime trenta pagine, mentre ha lasciato le precedenti trecento pagine a girare sempre intorno alle stesse situazioni senza fare progressi o inserendo avvenimenti più interessanti.
Adesso aspetto con ansia il secondo volume per poter scoprire finalmente come riuscirà a districare l'incredibile matassa in cui ha incastrato i suoi personaggi. Sperando che la mia Adeline possa avere il lieto fine che viene sempre concesso alle principesse delle favole.
Un bacio,
Patty