Carissime crazy,
Oggi vi parlo di
Non posso resisterti
di
Chelle Bliss,
uscito lo scorso
14 Novembre
per
Newton Compton
.
Eccoci tornati a casa della grande famiglia Gallo, dove regnano quattro scatenatissimi figli maschi e una femmina ancora più indomabile. Nei due precedenti libri della serie abbiamo conosciuto Joe, il fratello motociclista, e Michael, atleta professionista della MMA, il campionato di arti marziali miste. Ora è la volta di Izzy, la bella sorellina, e di James, affascinante amico di Thomas Gallo e infiltrato segreto della DEA…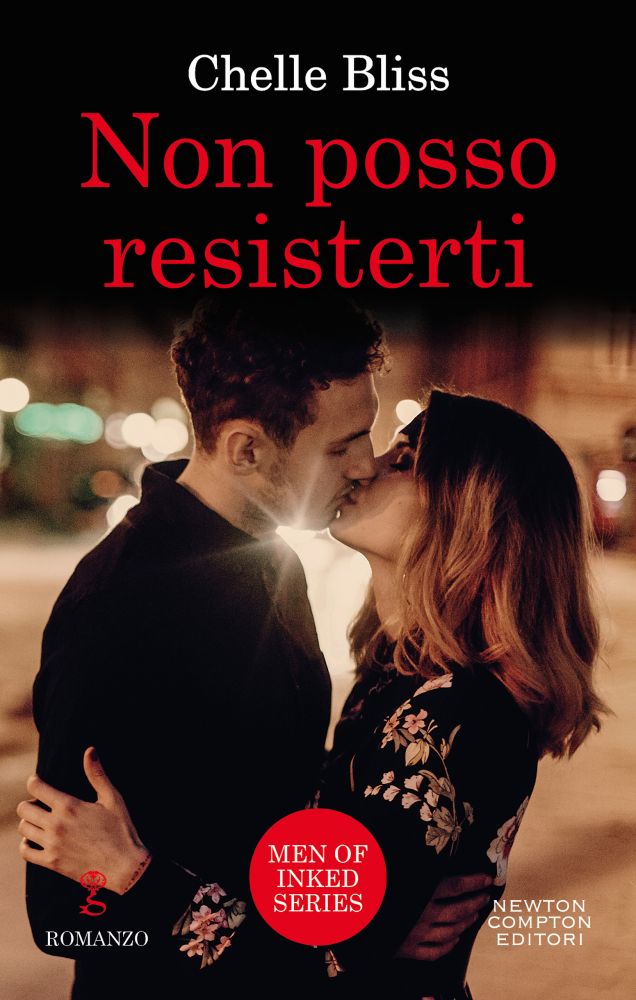 Men of Inked Series
0.5 The Gallos
1.
Tutto per una notte
, 28 Luglio 2019
1.5 Throttled
2.
Per una notte d'amore
, 20 Settembre 2019
2.5 Resisting
2.75 Rebound
3.
Non posso resisterti
, 14 Novembre 2019
4. Uncover Me, prossimamente
5. Without Me, prossimamente
6. Honor Me, prossimamente
6.5 Christmas Novella
6.75 Delusion
7. Worship Me, prossimamente
Autore:
Chelle Bliss
Editore:
Newton Compton
Genere:
Contemporary romance
Categoria:
suspense
Narrazione:
prima persona, POV alternato
Finale:
cliffhanger
Izzy Gallo rifiuta categoricamente ogni riferimento al "sesso debole". Crescere con quattro fratelli, uno con l'ego più smisurato dell'altro, ha finito per temprarle il carattere. È impetuosa, selvaggia e orgogliosa, e ha giurato a sé stessa che non permetterà mai a un uomo di dirle cosa fare. Preferisce di gran lunga gettarsi a capofitto in relazioni poco impegnative dal punto di vista sentimentale. Almeno fino a quando la sua strada non incrocia quella di James Caldo, un agente federale antidroga che in quanto a cocciutaggine non ha nulla da invidiare ai fratelli Gallo. E dal momento che Izzy l'ha stregato, è disposto a tutto per dimostrarle che una sola notte non gli basta.
Plot narrativo: Siamo arrivati al terzo capitolo di una serie che è iniziata in sordina e prosegue tiepida, senza grandi scossoni drammatici o colpi di scena pieni di adrenalina. Tutto inizia, cresce e trova un suo fine in modo abbastanza semplice e ahimè, piuttosto scontato. Con l'aggiunta di scene altamente erotiche e quasi porno.
Prenderti è semplice. E' farti restare la cosa difficile.
Struttura: tutta la serie Men of Inked è contemporanea, dalla trama di genere Sons of Anarchy, che è il motivo per cui ho scelto di leggerla e non riesco a staccarmene, nonostante non abbia la stessa capacità di attrazione della serie televisiva. In ogni libro, e questo non fa eccezione, quando l'intreccio sta virando sul troppo ovvio, la scrittrice crea una situazione suspense che avvince il lettore e lo fa proseguire senza noia fino alla fine.
Personaggi: i due protagonisti si bilanciano alla perfezione. Quanto Izzy è capricciosa e viziata, risultando poco simpatica, tanto James è ironico, divertente e irresistibile. Non si può non voler sapere come proseguirà la sua storia, visto il finale con cliffhanger…
Isabella Gallo non era una preda facile, m niente che valesse la pena avere lo era.
Nei: nell'unione familiare dei Gallo e nella loro "protezione a tutti i costi" della principessina Izzy ho riscontrato il più grosso neo di tutta la storia, e mi ha causato purtroppo qualche sbadiglio. Troppo stereotipata la visione della famiglia italiana tutta unita e quasi "chiusa" agli altri, intenta solo ai grossi e grassi pranzi infiniti. Inoltre sono davvero esagerate le troppe scene di sesso.
Cristina