Ciao Crazy,
Mettetevi comode perché sta per arrivare la serie
Private
di
Kate Brian
che approda in Italia grazie a
Newton Compton
il
7 marzo
con il primo capitolo che dà il nome all'intera serie:
Private.
Stiamo parlando di una serie composta da ben 14 libri più due novelle prequel.
Questa serie è stata definita sorprendente come Pretty Little Liars e scandalosa come Gossip Girl e in effetti ci ricorda un po' le serie che ci siamo letteralmente divorate in tv.
Entreremo con la quindicenne Reed Brennan alla Easton Academy e insieme a lei vivremo le iniziali sensazioni di disorientamento che però svaniranno nel momento in cui Reed trova il modo per essere accettata alla Easton: essere una Billings Girls. Cosa difficile a quanto pare, che le risolverà tanti problemi facendola entrare in un mondo che però non è proprio limpido come si vede da fuori.
La trama in effetti sembra già vista, ma vedremo se l'autrice saprà catturarci e coinvolgerci negli anni più sconvolgenti di ragazze in piena adolescenza disposte a tutto per farsi notare ed emergere nel gruppo, per uscire da un anonimato che le escluderebbe da tutto e soprattutto dalle attenzioni dei giovani studenti della Easton Academy.
Quindi, zaino in spalla, iniziamo questa lunga e tortuosa avventura nel fantastico mondo di Reed Brennan.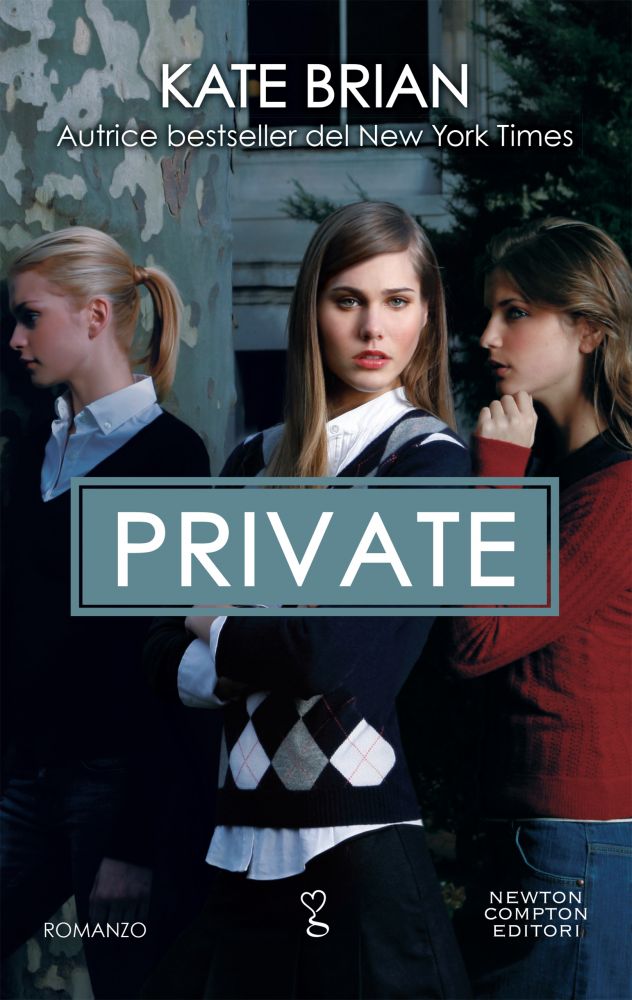 Private Series
0,5. The Book of Spells, inedito
0,6. Last Christmas, inedito
1.
Private
, 7 marzo 2019
2. Invitation Only, inedito
3. Untouchable, inedito
4. Confessions, inedito
5. Inner Circle, inedito
6. Legacy, inedito
7. Ambition, inedito
8. Revelation, inedito
9. Paradise Lost, inedito
10. Suspicion, inedito
11. Scandal, inedito
12. Vanished, inedito
13. Ominous, inedito
14. Vengeance, inedito
Autore:
Kate Brian
Editore:
Newton Compton
Genere:
Young Adult
Reed Brennan ha quindici anni e le idee chiare. Ha appena vinto una borsa di studio per la Easton Academy e intende sfruttare questa grande occasione per lasciarsi alle spalle una madre impasticcata e una vita mediocre in periferia. Ma non appena mette piede nello splendido campus dell'istituto, si rende conto che tutti sono più sofisticati, più eleganti e decisamente più ricchi di quanto avrebbe mai potuto immaginare. E che anche se è stata accettata alla Easton, la Easton non la accetterà mai. Reed si sente come se osservasse da fuori quel mondo luccicante… finché non incontra le Billings Girls. Sono le ragazze più belle, intelligenti e sicure di sé dell'intero campus. E lo sanno bene. In un ambiente in cui il potere è tutto, per quanto effimero, loro ce l'hanno. E Reed è disposta a fare qualunque cosa per entrare nel gruppo. Così impegna ogni fibra del suo essere per farsi notare. Ma scoprirà presto che dietro i vestiti firmati, i loro armadi sono pieni di scheletri.
Kate Brian
(Pseudonimo di Kieran Scott) è autrice bestseller del «New York Times». È nata in New Jersey e, dopo essersi laureata all'università di Rutgers in Inglese e Giornalismo, è tornata a vivere vicino alla casa in cui è cresciuta, da brava jersey girl. Private è il primo volume di una serie di grande successo.
A presto,
Il Team