Care crazy,
annunciamo oggi un grande ritorno.
Vi Keeland
torna infatti nelle librerie italiane il
18 Giugno
con
Sex, not Love
, grazie alla casa editrice
Sperling and Kupfe
r.
Stiamo parlando di una sexy commedia contemporary romance che di sicuro non deluderà le aspettative.
Titolo:
Sex, not Love
Autore:
Vi Keeland
Editore:
Sperling and Kupfer
Data:
18 Giugno 2019
Genere:
Contemporary Romance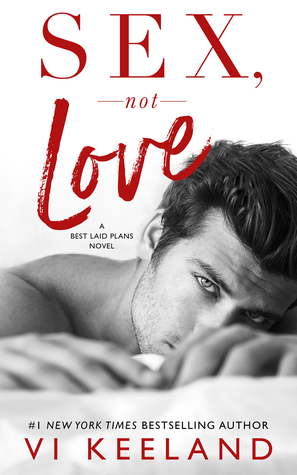 La mia relazione con Hunter Delucia è iniziata al contrario.
Ci siamo incontrati ad un matrimonio- lui seduto sul lato dello sposo, io su quello della sposa. Rubandoci sguardi l'uno l'altro per tutta la notte, non si poteva negare che ci fosse un intensa e reciproca attrazione.
Io ho preso il bouquet, lui la giarrettiera. Hunter mi ha tenuta stretta mentre ballavamo e ha suggerito che noi esplorassimo la chimica piena di scintille tra noi. Le sue parole sporche avrebbero dovuto spegnermi. Ma per qualche pazza ragione, hanno avuto l'effetto opposto su di me.
Alla fine siamo tornati nella mia stanza d'hotel. Il mattino dopo sono tornata a New York lasciandolo in California con il numero sbagliato.
Ho pensato a lui spesso, ma dopo la mia ultima relazione avevo giurato che avrei rinunciato a uomini affascinanti, arroganti e meravigliosi come il peccato. Un anno dopo Hunter ed io ci incontriamo ancora per la nascita del bambino dei nostri amici. La nostra attrazione non si era attenuata neanche un po'. Dopo un viaggio vorticoso, lui mi ha chiesto il vero numero questa volta. Così l'ho lasciato con il numero di mia madre- lei era in grado di mettere in fuga qualsiasi uomo con il suo chiacchierare di bambini e matrimonio- e sono volata indietro a casa.
Avevo pensato che fosse divertente, fino alla settimana seguente, quando lui ha suonato il campanello di casa di mia madre per la cena di Domenica sera. Quel pazzo, meraviglioso uomo aveva conquistato mia madre e preso un lavoro di otto settimane nella mia città. Lui ha proposto di passare tutto questo tempo facendo del sesso esplosivo.
Otto settimane di sesso incredibile senza nessun legame?
Cosa avevo da perdere?
Niente, pensai.
Solo sesso, non amore.
Ma sapete cosa si dice dei piani migliori..
Vi Keeland promette di farci innamorare di un'altra delle sue dolcissime storie e di sicuro ci basterà poco per essere ossessionate anche dal suo Hunter.
A presto,
Il Team