Carissime crazy,
parliamo oggi di una delle ultime uscite
Newton Compton
, il romance di
Samantha Chase
e
Noelle Adams
,
Only you
, in cui un ex marine s'innamora della sorellina del proprio miglior amico…
"Vorrei ma non posso" è il mantra che il povero Levi si ripete da… quasi una vita.
Harper infatti è assolutamente off limits per lui: troppo bella, troppo piccola, troppo ribelle e indipendente, ma soprattutto…troppo sorella di Gavin, l'amico quasi fratello di Levi. E per giunta Harper sembra detestarlo con tutto il cuore. Ma per quale motivo?
Venite a scoprirlo con noi.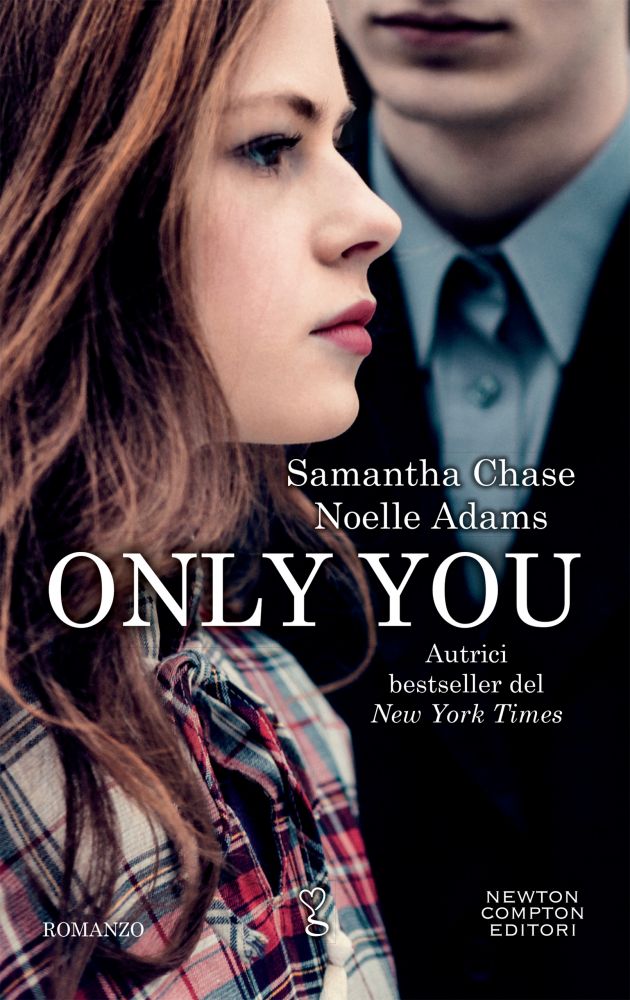 The Protectors Series
1.
Only You
, 13 Marzo 2019
2. Protecting the Enemy
3. Protecting the Girl Next Door
4. Protecting the Movie Star
Autore:
Samantha Chase e Noelle Adams
Editore:
Newton Compton
Genere:
Contemporary Romance/ Romantic Suspence
Categoria:
odio/amore
Narrazione:
1a persona, POV alternato
Finale:
autoconclusivo
Desidero davvero l'unica donna che non potrò mai avere: Harper, la sorella del mio migliore amico. Sono innamorato di lei da quando avevo diciotto anni, ma è sempre stata off-limits. Così ho taciuto i miei sentimenti e mi sono arruolato. Adesso, dopo anni nei Marines, sono tornato a casa. E nonostante tutto sia diverso, quello che provo per lei non è affatto cambiato. Ma ora più che mai non posso avere quello che desidero: suo fratello è morto e Harper vuole disperatamente sapere cosa sia successo. Ma ci sono cose che è meglio non sapere. Qualcuno sta cercando di farle del male e io devo proteggerla a ogni costo, anche se lei non si fida di me. Anche se mi odia. Un uomo deve tutelare quello che gli sta a cuore. Harper potrà non essere mai mia, ma è la cosa più preziosa che ho. E voglio che sia al sicuro.
Cominciamo con il mettere in chiaro che Levi è uno spasso. Tanto controllato e calcolatore nelle situazioni pratiche, in cui sente tutto il peso della responsabilità e del dovere, che sia il ruolo di amico o commilitone, o quello di maschio protettore, o di figlio, recluta, compagno di scuola, ex marine. Sempre. Levi è uno strano e raro caso d'uomo, per cui ogni situazione grava su di lui con il peso delle aspettative, in modo tale che nessuna delle sue decisioni è mai non calcolata o casuale.
Ma quando pensa, nella solitudine di casa sua, o ricorda fatti del passato, è assolutamente esilarante.
Avevo diciott'anni ed ero in piena tempesta ormonale. Sarebbe bastato anche un carrello della spesa a turbarmi.
Immaginate che effetto può fargli una deliziosa Harper in pantaloncini e canottiera, tutta sudata, e molto più sexy di un carrello della spesa…!
Harper è così il suo sogno proibito da quando è un ragazzino che si aggira in casa del suo miglior amico Gavin, fratello di lei. Ma quella ragazza tutto pepe, capelli biondi e gambe lunghe, non è una con cui divertirsi, da stuzzicare e poi scaricare.
Così Levi ignora il proprio desiderio per anni, finché parte come militare insieme a Gavin.
A tornare purtroppo sarà solo lui, e vedrà Harper ancora più lontana, da tenere d'occhio e proteggere come avrebbe fatto Gavin, per tutta la vita.
Ma tenere a bada Harper è come cercare di intrappolare un arcobaleno. Lei è un terremoto costante, sempre in fremito e fermento, intenta a una causa sociale o l'altra, incurante di cacciarsi in pericoli che tolgono il sonno al povero Levi.
«Senti, Levi. Te lo dico per l'ultima volta: impicciati dei fatti tuoi. Non andare più alla polizia al posto mio. Non ficcare più il naso in cose che riguardano solo me. Non cercare più di controllarmi o di dirmi quel che posso o non posso fare. Sono una persona adulta. Non sono una tua responsabilità, non hai alcun dovere morale verso di me, e se ti annoi non è colpa mia. Non siamo neppure amici. Quindi puoi prendere il tuo insopportabile ego da impiccione prepotente e ficcartelo su per quel culo presuntuoso che ti ritrovi».
Non c'è molto feeling in cui sperare, vero? Oppure come spesso succede, questi bisticci sono solo preliminari?
Se quella che cercate è la storia di due ragazzi come ce ne sono a milioni, semplici e grandissimi come ne incontriamo ogni giorno, come siamo o siamo stati noi stessi, be', allora Levi e Harper fanno per voi. Vi divertiranno e li amerete, proprio come me.
Buona lettura!
Con affetto
Cri