Buon giorno Crazy,
L'amico di mio fratello
di
Kendall Ryan
è il libro di cui vi parlo oggi. Si tratta del secondo romanzo della
serie Room mates
, quella che abbiamo già iniziato a leggere grazie a
Il fratello della mia migliore amica
uscito l'estate scorsa. Tenendo presente che i romanzi di questa serie sono tutti stand alone e non sono legati tra loro, questo secondo libro racconta la storia della giovane neolaureata Evie Reed, sorella di Cullen Reed che ha da poco preso in mano le redini dell'azienda di famiglia che produce lingerie, e di Smith Hamilton, amico di Cullen da quando erano ragazzini. Evie ha una cotta per Smith da sempre e vorrebbe dimenticare una delusione amorosa giocando un po' proprio con il sexy miglior amico di suo fratello, ma le cose non vanno esattamente come si era immaginata. E il peggio deve ancora venire, perché Cullen ha chiesto a Smith di dare una mano a risollevare l'azienda e ha contemporaneamente offerto a Evie di occuparsi del marketing. Riusciranno i due amici a lavorare insieme senza far capire a Cullen, molto protettivo nei confronti della sorella, quanta attrazione c'è tra loro? Ma soprattutto, riusciranno a non saltarsi addosso? Venite con me se siete curiose di scoprirlo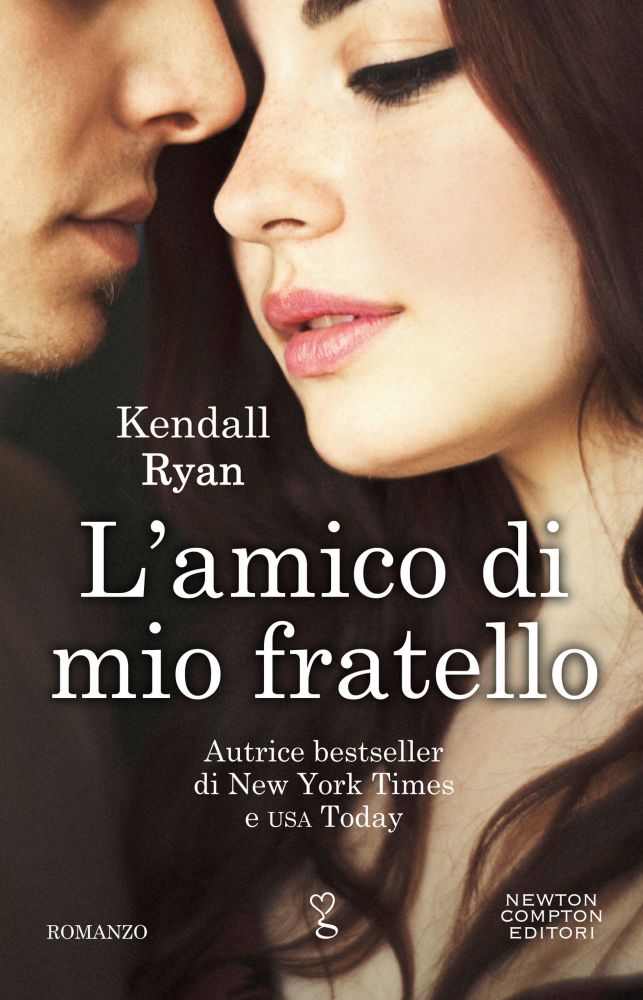 Serie Roommates
1. Il fratello della mia migliore amica, ottobre 2018
2.
L'amico di mio fratello
, 5 Maggio 2019
3. The house mate
3.5 The bed mate
4. The soul mate
Autore:
Kendall Ryan
Editore:
Newton Compton
Genere:
contemporary romance
Categoria:
friends to lovers / office romance
Narrazione:
prima persona, pov alternati
Finale:
conclusivo
Stanca di ragazzi sempre poco attenti alle proprie partner e desiderosa di lasciarsi alle spalle l'ultima, deludente avventura che ha avuto con uno di loro, Evie Reed, giovane neolaureata e sorella minore di Cullen Reed, imprenditore nel campo della moda e in particolare di lingerie di classe, ha deciso che è arrivato il momento di prendere il mano la situazione e forzare un po' la mano agli eventi. Si trova a Parigi, dove è appena giunta al termine di un viaggio in Europa post laurea, e si deve incontrare con il fratello ma soprattutto con il suo migliore amico, Smith Hamilton. Evie ha da sempre una fortissima cotta per Smith, fin da quando poco più che bambina lui ha iniziato a frequentare la loro casa per stare con suo fratello e lei tentava di unirsi a loro per giocare. Ma ora Smith è adulto ed è diventato un uomo davvero sexy dal fascino irresistibile, e Evie ha deciso che lui sarà il suo prossimo partner sessuale, perché vuole che sia lui a donarle il suo primo orgasmo non autoindotto. Ha pianificato tutto, l'occasione, la seduzione, l'opportunità, ma le cose non vanno come aveva previsto e così decide di prendersi comunque ciò che vuole. Quando Smith scopre che quel corpo nudo, caldo e morbido che ha tra le mani e in cui sta per seppellirsi fino al manico è quello di Evie e non è un sogno fatto nel buio della sua stanza d'albergo non la prende benissimo. Ha paura che Cullen, molto protettivo con la sorellina, possa arrabbiarsi, e molto, se dovesse scoprire che i due hanno una storia, così, nonostante la giovane Reed sia il suo personale sogno erotico da quando è cresciuta ed è diventata una bellissima ragazza, la respinge. Peccato che il giorno dopo Cullen dia ad entrambi l'annuncio che lavoreranno insieme da li in avanti al rilancio della loro azienda. Tenere a freno la fortissima attrazione che i due ragazzi provano sarà difficile, non farsi scoprire da Cullen ancora più difficile, non innamorarsi nel frattempo sarà praticamente impossibile.
Eccoci qui, mie care Crazy, con un altro libro di questa autrice che, sinceramente, non ho ancora deciso se mi piace oppure no. La sua scrittura è piuttosto altalenante, ho trovato alcuni suoi romanzi piacevoli e ben scritti, altri decisamente deludenti. Questo è carino, forse un po' corto, però migliore del precedente, che era davvero troppo simile ad altri già letti, è più originale, quanto meno, però siamo ancora lontani dalle vette che riescono a raggiungere le signore del genere romance. Non mi piace, ad esempio, l'ostentazione, che a tratti è talmente esibita da sembrare quasi forzata, della parolaccia erotica come intercalare del protagonista maschile, cosa che ho ritrovato anche in questo libro.
Per un attimo mi chiesi se, scientificamente parlando, avere letteralmente tutto il sangue del corpo nel pene mi avrebbe ucciso, ma poi lei sollevò una gamba sopra la sedia per mettersi a cavalcioni su di me e non me ne fregò più niente. Se fossi crepato in quel momento sarebbe stato con il sorriso sulle labbra.
Smith è un personaggio molto piacevole, ironico, spiritoso e sexy, non avrebbe bisogno di tanto turpiloquio per essere credibile nel contesto della storia che gli gira intorno, eppure l'autrice gli mette in bocca troppe scurrilità (sempre che non sia colpa della traduzione ma stavolta non credo) spesso inutili, e questo è spesso ridicolo e arriva a dare fastidio, e io non sono di certo una che si impressiona per così poco. Una cosa che mi è piaciuta, invece, è stato il modo in cui è stata sviluppata la storia d'amore, il lento avvicinarsi dei due protagonisti alla conclusione comunque scontata, la cottura a fuoco dolce del loro amore, la paura delle conseguenze e quindi il grande esercizio di autocontrollo, soprattutto di Smith.
Forse all'inizio era stata una questione di sesso, ma era diventato qualcosa di più. Non volevo solo il sesso come avevo pensato all'inizio. No, volevo un uomo. E l'uomo che volevo era Smith.
Mi sarei aspettata un altro genere di trama e invece la decisione dell'autrice di far trattenere i due protagonisti mi è piaciuta molto. È un bel personaggio anche Evie, determinata e decisa, anche se un po' pasticciona all'inizio; vuole Smith e farà di tutto per averlo, ma lascerà per strada il cuore e la sua più grande paura sarà proprio quella di non essere ricambiata. Certo, non ci sono molte altre cose da dire su questo romanzo, non siamo in presenza di un grande capolavoro, non è nulla di indimenticabile, ma come letturina piacevole, magari fatta per allentare la tensione emotiva al termine di una lettura più impegnativa, può essere preso in considerazione. Basta essere preparate, sapere che tipo di romanzo si ha per le mani e non aspettarsi chissà cosa, allora non si rischia la delusione e ci si può godere la storia di Evie e Smith. Ideale per la lettura sotto l'ombrellone in questa imminente estate che stiamo aspettando con tanta trepidazione.
A presto,
Zia D.