Buon giorno Crazy,
The Sister
di
Abigail Barnette
è il libro di cui vi parlo oggi. Si tratta dell'ultimo capitolo della lunga
serie The boss
, che ci ha raccontato la storia travagliata e a tratti drammatica di Neil e Sophie Elwood, lui magnate britannico dell'editoria e lei giovane redattrice di una delle sue riviste (questo nel primo dei romanzi a loro dedicati). La serie fin qui pubblicata in Italia era terminata con The Baby e i tragici avvenimenti che avevano portato Neil e Sophie diventare tutori della piccola Olivia, la bambina di Emma, figlia di Neil, e di suo marito, deceduti a causa di un tragico incidente. L'autrice ha deciso, dopo anni dalla pubblicazione di The Boss, di aggiungere un ulteriore capitolo alla loro storia e ci ha regalato un altro pezzetto di vita degli Elwood, le gioie e i dolori di dover crescere una bambina, l'evoluzione inattesa della loro relazione con El-Mudad, loro compagno di giochi particolari, e il passato di Sophie che entra a gamba tesa nella loro vita sconvolgendo gli equilibri e obbligandoli a vedere le cose con occhi diversi. Siete curiose di sapere chi è la sorella del titolo? Allora tornate con me a spiare la vita dorata e decisamente fuori dagli schemi dei coniugi più trasgressivi del mondo romance.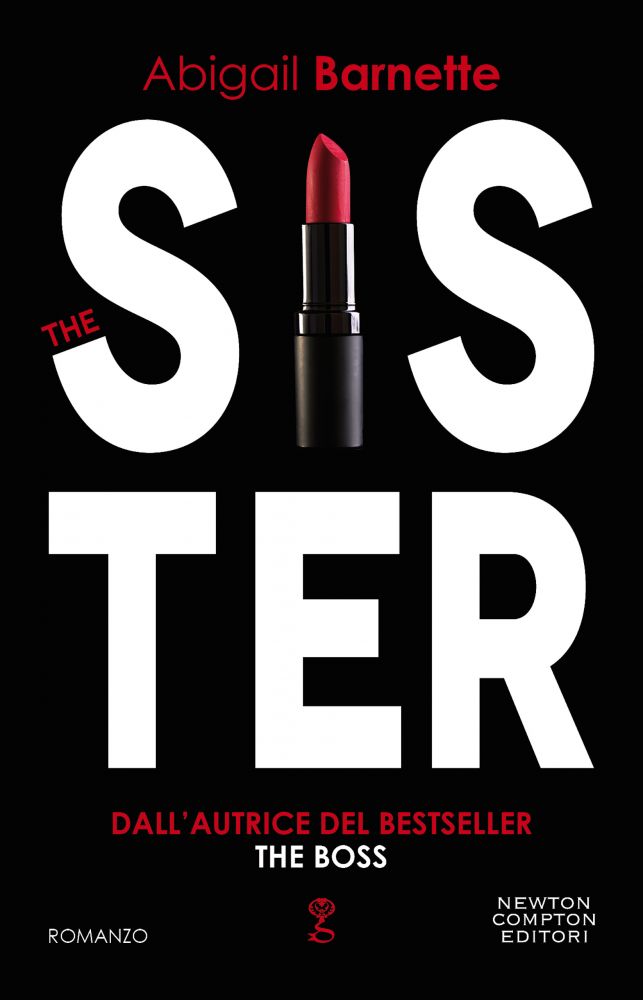 Serie The Boss

1. The Boss, maggio
2. The Girl, 30 luglio
2.5 The Hook up
3. The Wedding, 17 settembre
4. The Ex. 15 ottobre
5.
The Baby,
31 dicembre
6.
The Sister
, 18 aprile 2019
7. The Boyfriend (inedito in Italia)
Casa Editrice:
Newton Compton
Categoria:
Menage – D/s
Narrazione:
prima persona, pov femminile
Finale:
conclusivo
Sono Sophie Scaife, sposata con Neil Elwood, il magnate dell'editoria mondiale, ho una mia rivista di moda, una meravigliosa magione in riva all'oceano negli Hamptons, un attico a Manhattan e più soldi di quelli che potrei mai spendere in una vita intera. Non è stato sempre così, sono figlia unica di una ragazza madre che ha dovuto lottare per sopravvivere, ho sempre avuto più ambizione che mezzi per poterla soddisfare, ma il primo colpo di fortuna che ho avuto nella vita è stato incontrare per caso Neil, e il secondo è stato ritrovarlo dopo anni dal nostro primo incontro e innamorarmi, ricambiata, di lui. Sono successe molte cose da quando io e Neil abbiamo deciso di stare insieme nonostante la grande differenza d'età, abbiamo combattuto e sconfitto la sua terribile malattia e un suo ex amante piuttosto molesto e siamo sopravvissuti ad un aborto, al matrimonio di sua figlia Emma, alla sua gravidanza e allla nascita della piccola Olivia ma soprattutto abbiamo dovuto affrontare il terribile incidente in cui Emma e suo marito sono morti e le conseguenze di questa terribile disgrazia: il tentativo di suicidio di Neil e l'affidamento, condiviso con Valerie, madre di Emma, della bambina rimasta orfana. Io sono riuscita ad affrontare il periodo di cure psichiatriche alle quali si è sottoposto dopo Neil solo grazie alla vicinanza del nostro amico El-Mudad, colui che avevamo conosciuto in un club di Parigi con il nome di Emir e che è il nostro compagno di giochi particolare. Oh si, io e Neil continuiamo a giocare tra noi, lui è sempre il mio Signore e io sono sempre molto felice di potermi sottomettere a lui e stiamo per trascorrere un intera settimana in compagnia del nostro amico che di certo parteciperà ai nostri giochi. Ma c'è qualcosa che mi rende pensierosa, non riesco a dedicarmi come vorrei al mio lavoro, inoltre, dopo una rimpatriata con i miei vecchi compagni di liceo nella cittadina in cui sono cresciuta ho incontrato qualcuno che non avevo mai visto ma di cui conoscevo l'esistenza, e ora questa presenza, che arriva dritta dal mio passato pur non facendone parte, si è affacciata nella mia vita e sta per sconvolgerla dalle fondamenta.
Mie care Crazy,quanto mi erano mancati quei due porcelloni impenitenti di Sophie e Neil Elwood! Passa il tempo, le mode, noi lettrici amanti degli erotici abbiamo letto di tante altre coppie, ma un libro di Abigail Barnette è sempre una perla rara per chi ama il genere e questo ennesimo capitolo della storia dei coniugi Elwood è una gemma da incastonare tra i gioielli più splendenti della carriera di questa autrice bravissima e purtroppo non sempre apprezzata come meriterebbe. Il suo talento principale è quello di riuscire a costruire trame mai banali e scontate intorno ai suoi protagonisti, regalando al lettore colpi di scena e svolte della storia inaspettati, prendendo tutti di sorpresa e spostando il main stream delle vicende verso scenari inattesi. Vi faccio un esempio? Il terzo libro si chiama The Bride (La sposa; in italiano è The Wedding), e tutti noi abbiamo pensato che l'argomento sarebbe stato il matrimonio dei protagonisti, e invece quello avviene due libri dopo, con The Ex pensavamo che si sarebbe parlato di Valerie, l'ex moglie di Neil, e invece si parlava di un uomo del suo passato, The Baby non è figlio dei coniugi Elwood ma di Emma, la figlia di Neil.
Il tempo e il dolore e l'obbedienza si sono incrociati l'uno con l'altro. Il dolore è diventato passato, presente e futuro – il piacere una promessa. Le lacrime mi scorrevano sul viso, e tutta la confusione, la rabbia e l'autocommiserazione defluivano con loro.
La Barnette riesce sempre a sorprendere, ti spiazza, è capace di parlare nello stesso libro di argomenti estremamente delicati e scabrosi (la malattia, l'aborto, la morte, il suicidio, la violenza) unendoli a scene tra le più erotiche che mi sia mai capitato di leggere, cariche di sensualità e fantasiose perversioni, il tutto con uno stile che definirei didascalico, unico nel suo genere, riconoscibilissimo. Anche questo The Sister ha tutte queste caratteristiche, la sorella del titolo non è quella che vi potreste aspettare (Neil ha una famiglia numerosa), e le scene di menage con El -Mudad farebbero prendere fuoco un ghiacciaio, inoltre i molteplici sviluppi della trama prendono sempre direzioni diverse da quelle che ci si potrebbe aspettare, e il finale è davvero inatteso. Per il resto Sophie e Neil sono sempre loro, fantasiosi nel rapporto di coppia, sempre pronti a sperimentare nuove possibilità, aperti a ogni nuovo scenario.
Ho chiuso gli occhi e mi sono lasciata andare. Non c'era urgenza, salendo e planando, salendo ancora un po', sapendo che sarei arrivata al piacere che cui univa tutti e tre in una comunione quasi spirituale.
L'inserimento di El-Mudad nella coppia non è forzato ma molto naturale, voluto e cercato da entrambi, e anche i nuovi personaggi che vengono introdotti nel romanzo sono ben delineati e non spostano gli equilibri già raggiunti. Ho trovato un'unica pecca, secondo me, ma non ve ne posso parlare per non rovinare la sorpresa, diciamo che per me il finale un po' frettoloso, conclusivo ma non troppo, e ne ho scoperto il motivo da pochissimo: c'è un settimo capitolo della storia, già dato alle stampe in originale. Vedremo tra quanto tempo potremo leggerlo in italiano e se davvero, come spero, concluderà per il meglio questa storia così particolare e articolata. Intanto godetevi questo bel romanzo perché ormai, e aggiungo purtroppo, la sbronza da erotici in Italia sembra terminata e ne vengono pubblicati sempre meno, perlomeno The Sister è davvero di prima qualità. Consoliamoci!
A presto.
Zia D.