Buongiorno Crazy,
Amore sotto lo stesso tetto
di
Kendall Ryan
è il libro di cui vi parlo oggi. Si tratta del terzo romanzo della serie di stand alone denominata
Room Mates
, quella che abbiamo già conosciuto grazie a
Il fratello della mia migliore amica
e
L'amico di mio fratello
. Stavolta la consueta storia di strani compagni di stanza, caratteristica di questa serie, ci racconta di Max Alexander, imprenditore ex militare, scapolo impenitente e allergico ai rapporti sentimentali fissi, il quale si vede stravolgere la vita dall'inaspettata scoperta di essere diventato padre. La donna con cui aveva avuto una storia due anni prima si presenta alla sua porta con la loro figlioletta di un anno e gliela lascia, incapace di continuare a prendersene cura. Max è inizialmente frastornato dalla imprevista novità, ma Dylan è una bimba adorabile e lui si affeziona immediatamente. Se vuole continuare a lavorare, però, ha bisogno di assumere una tata a tempo pieno che si trasferisca da lui in pianta stabile. Addison Lane è appena uscita da una disastrosa relazione e ha bisogno di un nuovo inizio, cosa c'è di meglio di diventare la baby sitter di un'adorabile cucciolotta e trasferirsi in una nuova casa? Niente, deve solo trovare la forza di stare lontano dal suo papà supersexy, ma ci riuscirà?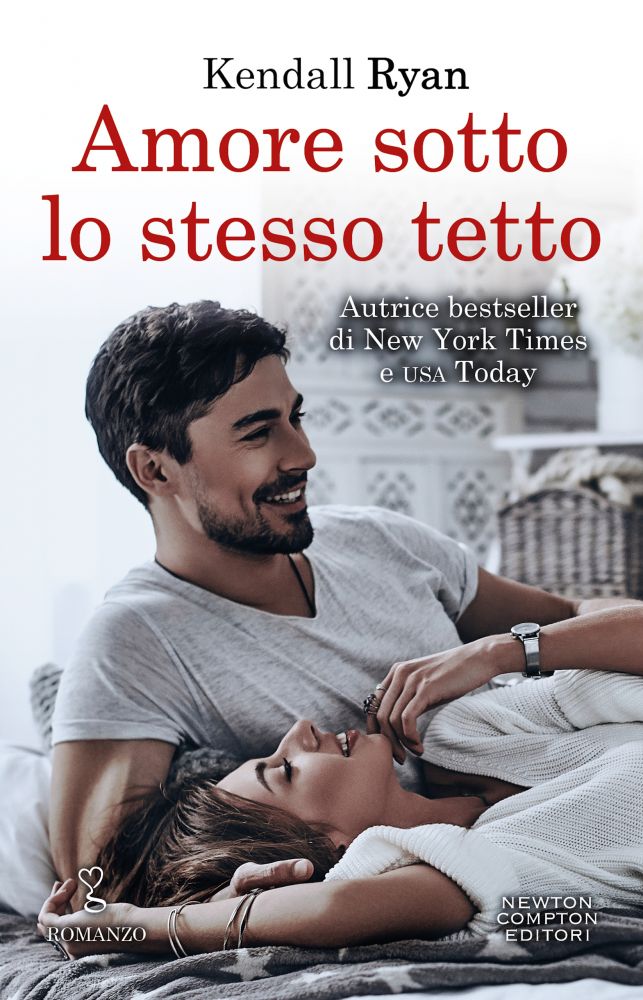 Serie Roommates
1. Il fratello della mia migliore amica, 1 Agosto 2018
2. L'amico di mio fratello, 5 Maggio 2019
3.
Amore sotto lo stesso tetto
, 21 Giugno 2019
3.5 The bed mate
4. The soul mate
Autore:
Kendall Ryan
Editore:
Newton Compton
Genere:
contemporary romance
Categoria:
forbidden romance
Narrazione:
prima persona pov alternati
Finale:
conclusivo
Max Alexander è un uomo che ha ben chiaro quali sono le sue priorità: il lavoro di imprenditore, gli amici con i quali esce per divertirsi, le donne che passano nella sua vita numerose e veloci praticamente senza lasciare traccia. Tutte tranne Jenn, ragazza con cui ha avuto una storia durata un paio di mesi circa due anni prima e che lo ha lasciato quando ha capito che non aveva intenzione di impegnarsi di più. Una sera Jenn si presenta alla sua porta con Dylan, una bellissima bimba di un anno concepita con lui ai tempi della loro relazione e che gli aveva finora tenuta nascosta; non ce la fa a crescerla, non la vuole più e gliela lascia come se fosse un pacco sgradito. Dylan è adorabile e Max si affeziona all'istante ma da solo non è certo in grado di badare a lei e contemporaneamente lavorare e continuare ad avere una vita normale, per cui è costretto a cercare una tata che si trasferisca da lui e si prenda cura di sua figlia. Addison Lane è una giovane che da un giorno all'altro si è ritrovata senza lavoro e senza casa quando ha dovuto lasciare Greg, il suo ex che ha scoperto di essere gay. Per non dover approfittare troppo dell'ospitalità della sua migliore amica cerca un impiego e vedendo l'annuncio di Max prende appuntamento sperando di ottenere il lavoro che sembra proprio fatto per lei. Max è istantaneamente attratto da Addison, non solo efficiente e professionale con Dylan ma bella e sexy. Anche alla giovane è impossibile restare indifferente di fronte a quel papà così sensuale e attraente, ma è il suo datore di lavoro e lei adora Dylan e non vuole perdere il lavoro. Dovrà solo trovare il modo di resistere alle crescenti attenzioni e agli sguardi infuocati di Max.
Kendall Ryan è una autrice, mie care Crazy, che ha avuto nel tempo un andamento altalenante nel mio gradimento personale. Ho apprezzato alcuni suoi romanzi, non ho affatto gradito altri, alcuni non mi hanno lasciato nulla a fine lettura, altri sono stati solo una piacevole lettura senza impegno, ma nessuno ha mai raggiunto un picco di qualità, nessuno mi ha fatto vibrare le corde delle emozioni. È questo il suo grande limite, a mio avviso, è una autrice gradevole, ma che non riesce mai ad elevarsi al di sopra di un certo livello, il suo stile non ti fa mai portare lo sguardo oltre l'orizzonte, non riesce a coinvolgerti e a emozionarti e, per una volta, non credo sia colpa della traduzione. Spesso le sue storie hanno un che di già letto, sono poco originali, non riescono a trascinarti, a coinvolgerti, e alcune rasentano l'inverosimiglianza. Stavolta ho trovato la storia di Max e Addison abbastanza carina, di sicuro non brilla per creatività però i personaggi sono ben tratteggiati e le vicende sono sufficientemente realistiche da non far sembrare il tutto una farsa, anche se, come già ho trovato in altri romanzi con protagonisti papà single usciti di recente, certi cambiamenti nel protagonista maschile mi sembrano davvero troppo repentini. Uomini adulti, scapoli impenitenti refrattari al coinvolgimento emotivo che, di punto in bianco si scoprono innamoratissimi e pronti a sposarsi mi daranno sempre la sensazione di trovarmi davanti un essere mitologico e non qualcosa di reale. Devo comunque dire che Max, uomo dall'indole predatoria e dall'atteggiamento piuttosto testosteronico non è un brutto personaggio, fa tenerezza nella sua inadeguatezza a maneggiare una bambina piccola, capisce presto di non potercela fare da solo e non indugia a chiedere aiuto; ho trovato convincenti anche l'immediata e potente attrazione che prova per la bella tata che gli si presenta davanti e i suoi tentativi di resistere che inevitabilmente finiscono in fumo.
Mi stai uccidendo Addison. È come se ti avessero tirata fuori dalle mie fantasie e ti avessero messa sulla Terra per torturarmi.
Quella che mi è piaciuta poco e ho trovato lontana dall'essere realistica è Addison, che sembra clonata da una rivista per casalinghe degli anni Cinquanta, ma che nasconde un'anima da pornostar di provincia. Bella, sexy, efficiente, dolce e comprensiva, trova immediata sintonia con una bambina di un anno che si ritrova da un giorno all'altro in una casa estranea, con persone che non ha mai visto prima e senza la mamma e si affeziona a lei al primo sguardo (mah!); candidamente ingenua si scatena come una tigre da materasso non appena Max decide finalmente che è ora di smetterla di trattenersi e le mette le mani addosso.. insomma questa si che è un animale mitologico (e la battuta di pessimo gusto che gioca in modo volgare con il nome di Mary Poppins nasce spontanea, ma è meglio non dirla).
Ero rimasto con quella donna meno di venti minuti ed ero già più duro di una fottuta mazza da baseball. Maledizione, se fosse venuta a vivere da me avrei dovuto dormire in una tenda sul retro per starle lontano. Anche se, se continuavo a quel ritmo, potevo anche usare le mie mutande come tenda.
Altra cosa che non mi è piaciuta particolarmente è stato lo stile usato per le scene di sesso, descritte con un frasario osceno ostentato in modo quasi molesto e così forzato da essere ridicolo, cosa che non ha contribuito a migliorare il mio giudizio su questo libro che comunque non è brutto, tutt'altro, basta prenderlo in mano consapevoli del poco spessore della storia e non aspettarsi un romanzo impegnato ed emotivamente stressante, ma un libricino balneare leggero e di veloce lettura, di quelli perfetti da leggere in questo periodo dell'anno. In quanto al mio personale giudizio sull'autrice.. rimane ancora sospeso, perché sono ottimista e spero che, prima o poi, Kendall Ryan sia in grado di regalarci un gran bel libro, ma non oggi.
A presto.
Zia D.