Ciao crazy,
il
14 febbraio
torna in tutti gli store
Jay Crownover
con i suoi maschi alfa super tatuati.
Newton Compton
pubblica
Respect
, ultimo capitolo della
The Breaking Point Series
.
Dopo
Honor
e
Instinct
, con Respect conosceremo il pericoloso Booker che farà innamorare la principessa Karsen. Strana coppia, ma ormai sappiamo bene che negli amori targati Crownover nulla alla fine è nulla impossibile e anche i personaggi più diversi trovano le loro appassionanti e misteriose affinità.
Se Bax è cattivo, Race è astuto e Titus (che conosceremo questo novembre) è coraggioso, finalmente possiamo conoscere anche l'uomo di The Point che incute terrore e reverenza insieme: Nassir. Non abbiamo ancora una data, ma di sicuro la casa editrice non ci farà attendere troppo tempo. Non ci resta che aspettare quest'altro protagonista oscuro e tormentato che di sicuro non mancherà di farci perdere la testa come hanno fatto tutti gli altri uomini di questa fantastica autrice.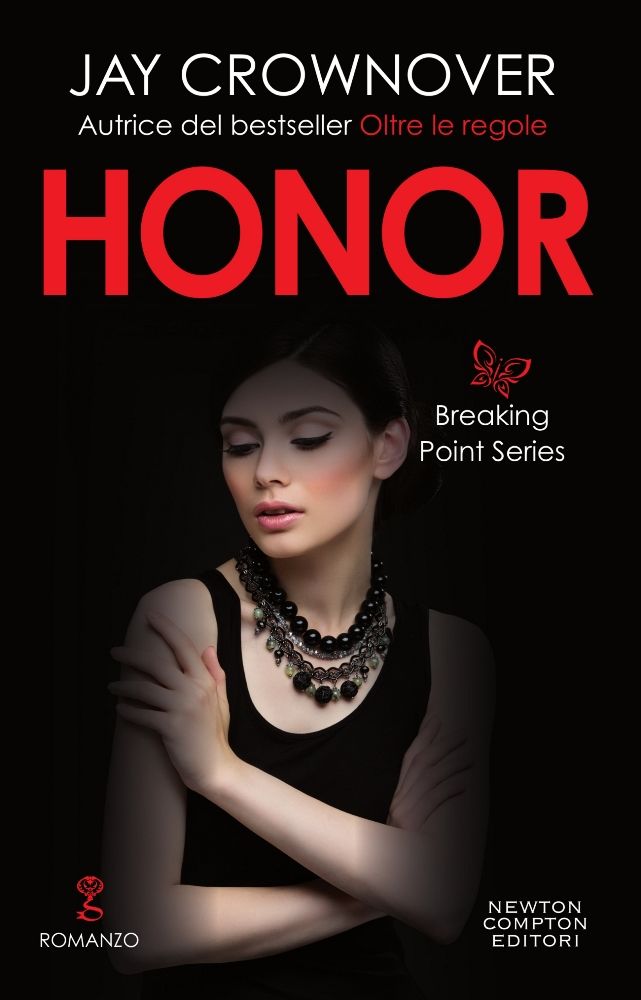 The Breaking Point series
1.
Honor
, 22 febbraio 2018
2.
Instinct
, 20 Settembre 2018
3.
Respect
, 14 Febbraio 2019
Autore:
Jay Crownover
Genere:
Contemporary romance
Non fatevi ingannare.
Non cercate delle scuse per il mio comportamento.
Non sono un uomo buono.
Ho visto cose che nessuno dovrebbe vedere, ho fatto cose di cui nessuno dovrebbe parlare. Onore e coscienza non hanno posto nella mia vita. Ma ho combattuto e sono sopravvissuto. Ho dovuto.
La prima volta che l'ho vista danzare in quello squallido palco in quel secondo club, ho sentito il mio cuore battere per la prima volta. Keelyn Foster era troppo giovane, troppo vivace per questo posto e ho capito in un attimo che l'avrei fatta mia. Ma prima di tutto dovevo arrivare al vertice. Dovevo avere qualcosa di più da offrirle.
Sono qui adesso, il denaro non è un problema e non ho eguali. Tranne lei.
Lei è scomparsa. Ma non vi preoccupate, la troverò e la riprenderò. Sarà mia.
Come ho detto, non fatevi ingannare. Io non sono il diavolo sotto mentite spoglie.. sono l'unico e solo.
2. Instinct
Snowden Stark è sempre vissuto nella zona grigia tra luce e ombra, ma l'arrivo di una ladra sconvolge la sua vita
Lo sanno tutti che le apparenze ingannano. Eppure non c'è nessuno che, vedendomi, non mi prenda per un attaccabrighe, una bestia. Il fatto che io sia alto e pieno di tatuaggi devia completamente la loro attenzione. In realtà, ho sempre dato molto più peso al cervello che ai muscoli. Anche se non ho scelto di usarlo nel modo più rispettabile. Non sono uno stupido supereroe né un bravo ragazzo. Ho voltato le spalle alla dignità e ho venduto la mia anima al miglior offerente. Uno che non sa salvare neppure se stesso, come potrebbe aiutare gli altri? Noe Lee è entrata nella mia vita come un fulmine. Brillante ma indisciplinata, capace di muoversi nei bassifondi addirittura meglio di me. Era fastidiosamente adorabile, ma era nei guai. E i guai di qualcun altro non sono mai stati affari miei. Così, le ho sbattuto la porta in faccia. E dopo che è sparita è bastato un secondo perché capissi che la rivolevo indietro. Quando realizzi di desiderare così disperatamente qualcuno, non ti chiedi cosa sei disposto a fare. Segui l'istinto e basta.
3. Respect
C'era una volta la bellissima principessa Karsen. La sua, però, non è una favola come le altre. Karsen viveva in un regno di malvagità e corruzione, ma al riparo dagli orrori del mondo. Ignara della sofferenza, la principessa era innamorata della città che bruciava intorno a lei, ne amava gli angoli oscuri, le ombre spaventose. Fu così che consegnò il suo cuore nelle mani di un uomo pericoloso e violento, sorda ai suoi avvertimenti: lui diceva di non meritarla, ma lei non voleva credergli. Nonostante la sua indole brutale, quando erano insieme lui si dimostrava attento e premuroso. Karsen doveva sapere che l'oscurità avrebbe inghiottito la città e l'uomo che amava, ma il dolore per il suo tradimento fu tale che si trovò costretta a fuggire, con il cuore spezzato. Gettò via la corona sperando di riuscire a dimenticare e lasciarsi tutto alle spalle. Ma nel regno oscuro di questa favola, la famiglia è tutto. E Karsen non ha altra scelta se non tornare indietro. Ora, però, non è più un'ingenua principessa…
A presto,
Il Team