Care Crazy,
con il titolo di
Il tempio della fortuna
torna in Italia il
27 Febbraio 2020
, grazie alla
Always Publishing
, una delle più talentuose e amate nuove leve del romance americano contemporaneo,
Devney Perry
, e continuando con la sua prima serie, la
Jamison Valley series
. In occasione dell'uscita di questo secondo volume stand alone la serie si mostra in una nuova veste con delle favolose cover inedite anche per il primo volume.
La Perry è un volto nuovo del panorama letterario americano ma fin dall'uscita del suo primo romanzo ha attirato l'attenzione di molti addetti ai lavori che hanno iniziato subito ad osannarla, trovando il suo lavoro straordinario. La Jamison Valley è una serie composta da cinque romanzi stand alone che si svolgono tutti nella cittadina di Prescott, nella contea di Jamison in Montana, tra le aspre vette e i boschi secolari dello Stato americano situato tra le Montagne Rocciose e le grandi pianure del nord, e hanno come protagonisti un gruppo di uomini vigorosi e determinati che ricoprono importanti posizioni nel tessuto sociale del paese, come lo sceriffo, il capo dei vigili del fuoco, un mandriano che gestisce l'allevamento più grande della zona, un guardiaboschi capo del servizio di soccorso alpino e un misterioso fotografo che nasconde un segreto. Ognuno di loro troverà l'amore tra le braccia di donne volitive e coraggiose, mentre sullo sfondo si dipanano avvincenti vicende, a volte drammatiche e cariche di suspense, che comunque non offuscano mai la principale trama romance che è ben calibrata per alleggerire, quando serve, il racconto. Altra peculiare caratteristica di questi libri, come dell'altra produzione di questa autrice, è quella di raccontarci storie di seconde possibilità o di rinascite dopo un periodo buio, tanto che possiamo tranquillamente indicare la Perry come nuova stella del second chance romance. Il risultato di questa commistione di stili sono cinque libri bellissimi dall'impianto classico del romanzo d'amore di qualità, scritti con grande classe da quella che siamo certe diventerà una delle penne più amate del genere e che si affiancherà con merito alle grandi regine della letteratura rosa contemporanea. Si comincia con il primo romanzo, La fattoria dei nuovi inizi, titolo italiano di The Coppersmith farmhouse, che vede protagonisti una giovane e risoluta mamma single e lo sceriffo di Prescott, uomo rude e volitivo, che si contenderanno l'eredità di una magnifica fattoria immersa nei boschi. Amanti del contemporary romance preparatevi perché i libri di Devney Perry vi ruberanno il cuore, ne siamo certe. Vi lasciamo con le trame ufficiali tradotte dal nostro team e la scheda della serie.
Serie Jamison Valley
1.
La fattoria dei nuovi inizi
(The Coppersmith farmhouse), 31 gennaio 2019
2.
Il tempio della fortuna
(
The Clover Chapel
), 27 febbraio 2020
3. The Lucky Heart
4. The Outpost
5. The Bitterroot Inn
Autore:
Devney Perry
Editore:
Always Publishing
Genere:
contemporary romance
#1 The Coppersmith farmhouse
Gigi aveva solo bisogno di un nuovo inizio.
Jess non la voleva nella sua città.
Ma un'eredità li unirà come un filo invisibile.
⭐️
Giorgia, per tutti Gigi, è una mamma single, risoluta e combattiva, che anela a lasciare la solitudine e la freddezza della vita in una grande città. L'occasione per ricominciare da capo si presenta quando riceve un dono totalmente inaspettato da parte di un caro vecchio amico: una fattoria immersa nel verde a Prescott, in Montana, non lontano dal parco di Yellowstone. Giorgia non ha idea di cosa aspettarsi da una cittadina così piccola, in cui non conosce assolutamente nessuno ma il desiderio di essere parte di una comunità, per sé e sua figlia, è troppo potente da ignorare.
Jess Cleary ritiene che la fattoria dei Coppersmith, di cui per anni si è preso cura, avrebbe dovuto essere sua ed è convinto che la bella forestiera abbia raggirato il vecchio Ben per farsi regalare la sua tenuta. Ma presto Jess si renderà conto che il disegno di Ben era molto più complesso, e la sua eredità qualcosa di molto più importante per il suo cuore: una famiglia. Mentre Jess e Gigi iniziano a conoscersi e a piacersi sempre più, nella tranquilla Prescott si verificano strani incidenti, e lo sceriffo dovrà presto impegnarsi con tutte le sue risorse per difendere la città e il suo nuovo amore dal misterioso pericolo che li minaccia.
#2 The clover chappel
Emmy crede che non rivedrà mai più suo marito.
Nick è determinato a riconquistarla.
Ma alcuni segreti non potranno più rimanere celati.
Emmeline Austin, giovane ereditiera newyorkese, dopo una notte di follie nella capitale mondiale del divertimento si ritrova con un anello al dito, un altro abbandonato sul tavolo, un bigliettino di scuse e il cuore spezzato.
Nove anni dopo, stanca di vivere una vita seguendo le regole di un padre troppo autoritario, vuole finalmente dedicarsi a un lavoro che le piaccia davvero e lasciarsi alle spalle il caos della Grande Mela. Decide così di accettare un posto di maestra d'asilo a Prescott, nel Montana, e trasferirsi tra le montagne e i boschi della Jamison Valley.
Quello che non si aspetta, una volta giunta nella placida cittadina, è di ritrovare l'uomo che le aveva rovinato la vita tanti anni prima, suo marito.
Nick Slater è il capo del servizio antincendio, proprio a Prescott. Taciturno e riflessivo, è uno degli uomini più stimati in paese e nasconde un segreto nel suo cuore: nove anni prima, dopo averla sposata e dopo appena un'incantevole notte da marito e moglie, ha dovuto abbandonare l'unica donna che avesse mai amato nella sua vita, per poterla tenere al sicuro dalle ombre del suo passato.
Ma quando il destino, inaspettatamente, riporta la sua Emmy nella sua vita solitaria, Nick è certo che stavolta non può permettersi di perderla di nuovo, e sarà disposto a tutto pur di ottenere una seconda possibilità per dimostrarle la profondità del suo amore anche dopo gli anni passati lontani, e
difenderla da ogni pericolo.
#3 The lucky heart
La vita nel suo ranch potrebbe essere il loro futuro. Se solo riuscissero a superare il loro passato.
La storia della vita di Felicity è molto simile al copione di una pessima soap opera. La ragazza aveva un fidanzatino al liceo che è diventato un drogato. La ragazza si era innamorata del migliore amico del suo fidanzatino. La ragazza li aveva lasciati entrambi andandosene dal paese per tornare a casa solo anni dopo per il funerale del suo ex fidanzato assassinato. Ora lei ha deciso di tornare stabilmente in Montana, pronta per ricominciare di nuovo. Ha una lunga lista di persone con cui fare ammenda e relazioni da ricostruire, inclusa quella con l'uomo che ha posseduto il suo cuore per sedici anni.
Silas non ha bisogno di molte cose. Ha un cavallo fantastico, amici fidati e il Ranch Lucky Heart, ma gli è sempre mancato qualcosa. Non è un idiota. Sa che il pezzo mancante è Felicity. E ora che lei è tornata a Prescott, ha la seconda possibilità di conquistare il suo cuore. Questa volta, l'unica cosa che gli è di ostacolo è la loro storia. Rivangare il passato sarà tanto doloroso quanto giocare al tiro alla fune col filo spinato. Ma se riuscissero a curare le loro vecchie ferite, lui otterrebbe la ragazza che avrebbe dovuto essere sua da molto tempo.
#4 The Outpost
Intrappolata nel suo piccolo cottage in montagna, lei non si aspettava certo di innamorarsi del suo grande cuore.
Puntare i riflettori su una importante famiglia criminale con un reportage giornalistico investigativo non ha funzionato esattamente nel modo in cui Sabrina aveva sperato. Invece di crogiolarsi nella gloria per il successo del suo articolo, è costretta a scappare lontano da un uomo potente che la vuole morta. Per stare al sicuro, è costretta a scambiare una pessima situazione per un'altra. Bloccata nella natura selvaggia del Montana, è isolata da qualsiasi cosa possa assomigliare alla civililtà o al mondo moderno. L'unica cosa buona della sua situazione è il magnifico montanaro assegnato alla sua protezione. Purtroppo lui non sembra particolarmente interessato ad una ragazza di città come lei.
A Beau piace la sua vita rilassata e semplice. Dategli una giornata tranquilla per camminare tra i boschi con il suo cane e farete di lui un uomo felice. Non gli piacciono le grandi folle, le città rumorose o le donne inclini ai drammi. Così quando una reporter di successo arriva in città portandosi dietro i suoi enormi problemi avrebbe dovuto fuggire e darsi alla macchia. Invece si è dato volontario per tenerla al sicuro. Portarla nel suo mondo non sarà facile, ma se riuscisse a convincerla che il Montana non è così terrificante come lei crede, potrebbero davvero diventare la copia perfetta.
#5 The Bitterroot Inn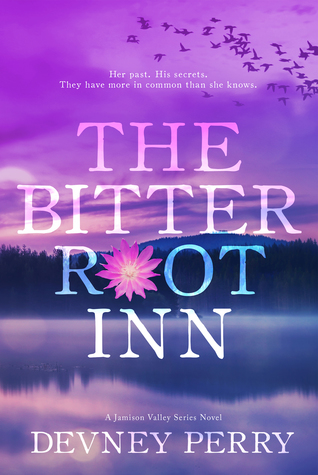 Il passato di lei. I segreti di lui. Hanno in comune molto più di quanto lei sappia.
Maisy è piuttosto felice della vita che si è costruita da sola per se e per il suo figlioletto nella piccola cittadina di Prescott, Montana. Il suo bambino sta crescendo bene, i suoi affari stanno fiorendo. E la sua famiglia è unita come è sempre stata. Ma quando un bellissimo sconosciuto entra nell'atrio del suo motel, la sua vita semplice è scossa da un'ondata di sentimenti per il suo cuore gentile. Purtroppo non può fidarsi di nessuno di quei sentimenti. Ha già fatto una volta quell'errore con un altro uomo. L'uomo che lei ha ucciso.
Hunter era un uomo diverso la prima volta che ha visto Maisy Holt da lontano. L'ha guardata una volta ed è fuggito dalla parte opposta. Ma anni dopo è tornato in Montana ed è incapace di mantenere le distanze. Non avrebbe dovuto provare a ritrovarla, ma non è mai stato bravo a combattere le tentazioni. La promessa di cose buone che lei potrebbe portare nella sua vita è troppo forte per riuscire a resistere. Forse se riuscisse a nascondere le bugie e celare l'inganno, potrebbe riuscire a impedirle di conoscere la verità. Perché la sua unica possibilità di avere un futuro con lei è nascondendole il suo passato.
Cosa ne pensate? Le trame sono interessanti e originali e lo stile di scrittura accattivante e coinvolgente, siamo certe che questa nuova autrice entrerà di diritto tra le vostre preferite di sempre.
A presto
Il team Crazy