Buongiorno Crazy,
King
di
T. M. Frazier
è il libro di cui vi parlo oggi. Si tratta del primo romanzo di una lunga serie articolata che ci racconta le storie di un gruppo di amici che vivono da sempre ai margini della società, provenienti da famiglie disastrate, inesistenti e decisamente al di fuori della legge. Mentre Bear, figlio del presidente di un club di bikers ha sempre voluto seguire le orme paterne, King e Preppy hanno deciso fin da adolescenti che il modo per avere quello che volevano e rendersi indipendenti non prevedeva in maniera assoluta il rispetto della legge. Una sera, mentre sta festeggiando il ritorno a casa dopo tre anni di galera, King incontra Doe, una ragazza spaesata e affamata che sta cercando di trovare protezione dopo mesi passati in strada. Doe non ricorda nulla del suo passato, non sa chi è, non sa da dove viene, sa solo che ha fame e che è disposta a tutto per mangiare. La prostituta che l'ha accompagnata alla festa, però, deruba King e scappa, lasciandola indietro ferita e indifesa. King inizialmente la tiene prigioniera per cercare di rifarsi dei soldi perduti, ma i grandi occhi impauriti della ragazza hanno già scavato un solco profondo nella sua anima tormentata. Siete pronte a partire per un viaggio all'Inferno e a godervene ogni singolo istante? Allacciate le cinture di sicurezza e preparatevi, allora, ci sarà da soffrire.
3. Lawless
4. Soulless
5. Preppy: The Life & Death of Samuel Clearwater, Part 1
6. Preppy: The Life & Death of Samuel Clearwater, Part 2
7. Preppy: The Life & Death of Samuel Clearwater, Part 3
8. Up in Smoke
9. Nine, The Tale of Kevin Clearwater
Autore:
T.M. Frazier
Editore:
Newton Compton
Categoria:
soft dark
Narrazione:
prima persona, pov alternati
Finale:
cliffhanger
"C'è differenza tra essere cattivi ed essere malvagi"
Doe non sa chi è: si è risvegliata priva di memoria in ospedale e nessuno sapeva chi era, nessuno l'ha cercata, nessuno aveva denunciato la sua scomparsa. Ha dovuto arrangiarsi come poteva, da sola, ma una ragazza giovane e bella come lei corre rischi troppo grandi per strada in un posto come Logan's Beach, nella parte sporca e cattiva della ricca Florida. La sua compagna di strada, una prostituta tossica di nome Nikki una sera la porta ad una festa dove Doe dovrebbe offrirsi ad uno dei bikers presenti per trovare protezione, ma finisce che Doe viene mandata dal padrone di casa, King, uno spacciatore appena uscito di prigione che però la respinge. Nikki in seguito scappa derubandolo e lasciandosi dietro l'amica ferita. Doe si ritrova così prigioniera di King, bellissimo, tatuatissimo e cattivissimo, che ha tutte le intenzioni di rivalersi su di lei per i soldi persi. La ragazza riesce anche a scappare, ma quando King la salva da un tentativo di stupro da parte di un vagabondo, capisce che l'unico modo che ha per sopravvivere e sperare di scoprire il suo passato è stare al fianco di quell'uomo sensuale e pericoloso come un felino pronto ad attaccare. E King? Lui ha scolpito nel cervello lo sguardo da cerbiatta sperduta di Doe dalla prima volta che l'ha vista, e combatte una feroce battaglia interna contro se stesso per non attaccarsi troppo a lei, una battaglia persa in partenza.
Eccoci qui, care Crazy, a parlare di uno dei libri più attesi di quest'anno, un libro difficile, diverso, un libro che ha cambiato un certo modo di scrivere dark romance al punto da deformare il genere e destabilizzare chi lo legge. King è sconvolgente, crudo, talmente privo di filtri da sembrare quasi splatter eppure in realtà meno violento di quello che mi aspettavo. La violenza c'è, permea l'atmosfera in cui vivono e operano King e Doe e la intossica, ma tra di loro non è mai presente, come se la potente attrazione, l'affinità e i sentimenti che provano l'uno per l'altra fungesse da repellente per il mondo esterno, una bolla che li isola, ma che rischia in continuazione di rompersi e permettere così ai veleni che li circondano di contaminarli. Doe e King sono personaggi straordinari, l'autrice è stata davvero bravissima a caratterizzarli e a dar loro vita, al punto che leggendo il romanzo li viviamo, diventiamo parte di loro, pensiamo con loro, respiriamo, proviamo dolore insieme a King e Doe. Il loro amore cresce tenace e battagliero nonostante il mondo intorno a loro crolli inesorabile e ostacoli ogni possibilità di futuro.
King era severo e spaventoso come l'inferno, esattamente come il suo bacio, e se le sue parole non erano riuscite a chiarire il concetto, il suo bacio mi disse inequivocabilmente che ero sua. Mi fece dimenticare per un attimo che l'uomo dietro quelle labbra era uno psicopatico furioso.
Non vi parlo troppo di loro volutamente, perché vi rovinerei la sorpresa, ma vi assicuro che li troverete indimenticabili. L'autrice ha tessuto intorno ai suoi protagonisti una trama intricata e complessa, carica di colpi di scena, dolorosa, drammatica, raccontata con un ritmo mozzafiato che ti impedisce letteralmente di mollare la lettura fino alla fine, fino a spezzarti in due, fino a lasciarti sanguinare a morte con uno dei peggiori cliffhanger che abbia mai letto, al punto che mi sono già procurata il secondo in originale perché non c'è modo di stare in pace senza sapere come continuerà la storia. La Frazier, inoltre, in questo primo romanzo ci ha regalato Preppy, uno dei migliori caratteri secondari dai tempi di Cary della serie Crossfire di Silvia Day, un personaggio che è un terzo protagonista e che avrà nella serie una trilogia tutta sua. Preppy è un valore aggiunto, è da solo un motivo già più che valido per leggere questa saga, ma oltre a lui conosciamo anche quello che sarà il protagonista della seconda duologia, ovvero Bear, il biker, che ci fa vedere già molto bene tutto il suo potenziale, e che ci lascia con la voglia di leggere tutti e nove i romanzi di cui è composta questa serie.
La scopai finché non diventammo una persona sola, e in un certo senso lo eravamo, perché io mi ero perso lungo la strada e mi ero ritrovato nel posto più improbabile. Mi ero ritrovato negli occhi stregati di una ragazza che era perduta quanto me. O forse non ci eravamo trovati affatto. Forse avevamo semplicemente deciso di perderci insieme.
Quindi, mie care Crazy, cosa cercate per la vostra estate? Cercate un libro romantico e divertente? Volete i cuori e i fiori? Volete passare un po' di tempo spensierato e leggero in compagnia del vostro lettore ebook? Allora dovete rivolgervi ad altro, ma se quando leggete un libro vi piace sentire l'adrenalina scorrere e l'ansia crescere inesorabile, se non vi spaventa un po' di dolore, se il sesso letterario vi piace pieno di passione e privo di remore, impetuoso e travolgente, se avete voglia di immergervi in una storia sporca e immorale, se come Doe avete il coraggio di superare al sopraelevata e andare a cercare protezione dal Diavolo in persona, allora King è il vostro libro per questa estate che si preannuncia rovente, mie care anime impavide. Non privatevi però della lettura di un libro così bello e intenso solo per la paura della sospensione, abbiate il coraggio di leggere King, abbiate le palle per permettere al vostro cuore di sanguinare e al vostro cervello di impazzire per colpa di questo libro, perché è una sofferenza necessaria, catartica, perché vi farà crescere come lettrici, perché la storia di King e Doe merita di essere letta adesso, e merita uno dei vostri migliori e barbarici "PORCA TROIA!".
A presto.
Zia D.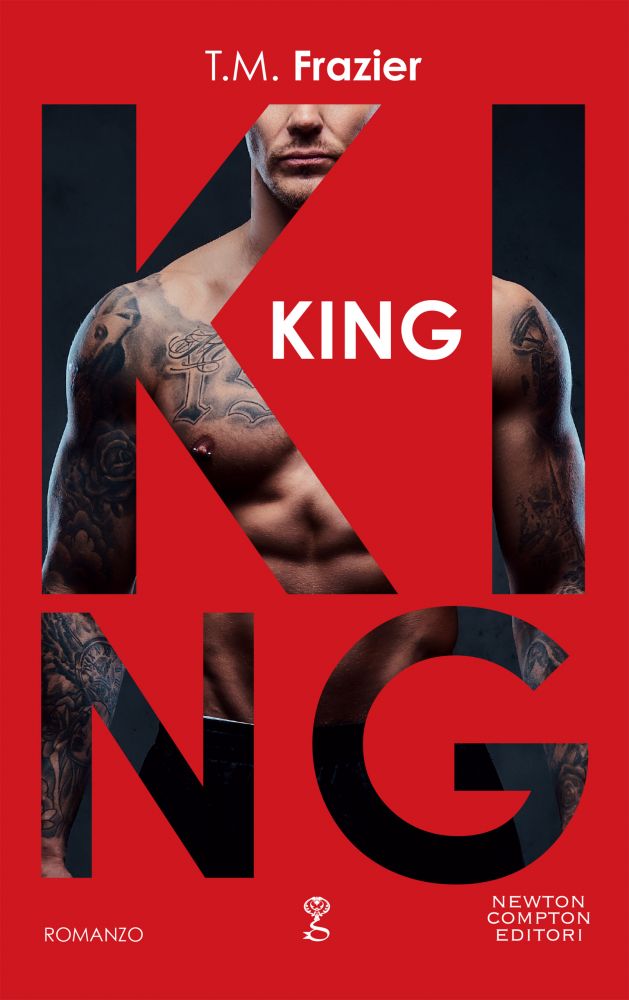 Amazon