Care Crazy,
Oggi vi parlo in anteprima di
Voglio un bravo ragazzo
di
Penelope Bloom
. Secondo volume della serie
Objects of attraction
, in uscita oggi
6 Giugno
per
Newton Compton
.
In questo nuovo capitolo faremo la conoscenza di Hailey, una pasticcera in difficoltà economiche e di William che è determinato a rubare la sua ciliegia.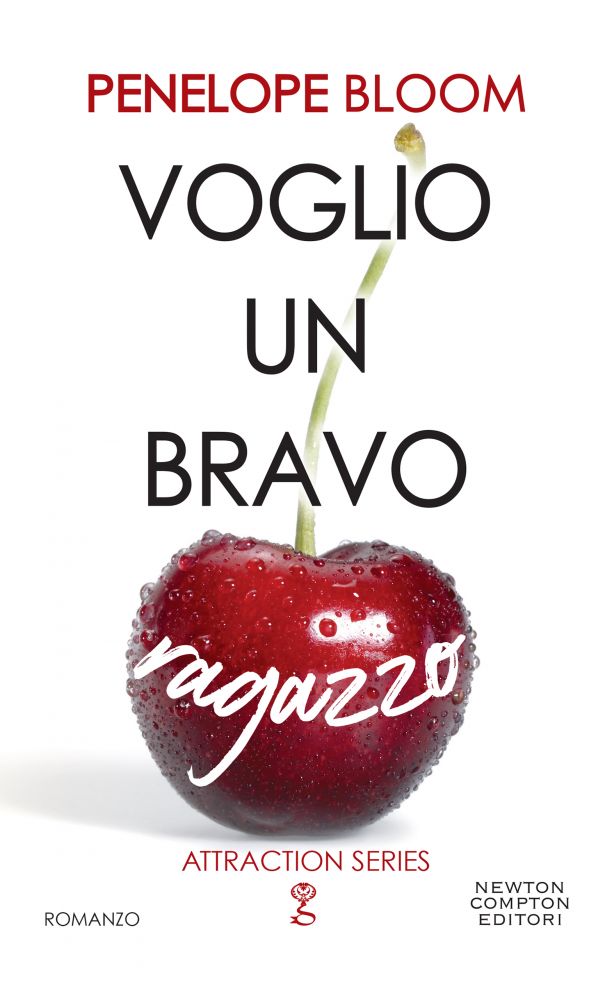 Objects of Attraction Series
1. Sono una brava ragazza, 9 Maggio 2019
2.
Voglio un bravo ragazzo
, 6 Giugno 2019
3. His Treat
4. His Package
5. Her Secret
6. Her Bush
Autore:
Penelope Bloom
Editore:
Newton Compton
Genere:
Contemporary Romance
Categoria:
Comedy
Narrazione:
prima persona, pov alternato
Finale:
conclusivo
Come ho conosciuto William? È entrato nella mia pasticceria, ha comprato una torta di ciliegie, rubato un vaso di fiori – non avevo idea di cosa diamine dovesse farci – e lasciato il suo biglietto da visita in bella mostra. Prima di ammettere cosa abbia fatto con il biglietto da visita vorrei chiarire una cosa: William non avrebbe potuto scegliere un momento peggiore per entrare nella mia vita. Il mio locale stava per fallire. Quello stupido del mio ex si rifiutava di lasciarmi in pace. E tutti mi tormentavano perché a venticinque anni non ero ancora mai andata a letto con un ragazzo. William non era certo il candidato ideale per la mia prima volta. Un donnaiolo convinto, sexy in modo insopportabile. Tutto il contrario di quello di cui avevo bisogno. E allora perché l'ho cercato? Ho capito di essere nei guai quando con la sua voce profonda mi ha detto: «La tua torta era deliziosa. Cucini anche a domicilio?».
Abbiamo lasciato da poco Natasha e Bruce, e per non farci sentire troppo la loro mancanza arriva subito con la sua storia William, il fratello gemello di Bruce, che non poteva essere da meno, con una storia ugualmente divertente e leggera.
Hailey è una ragazza molto più brava con i dolci che con le persone. Perché la pasticceria ha regole precise e se le segui non puoi sbagliare, con le persone invece non è altrettanto facile.
Per questo, anche a causa di brutte esperienze con uomini, si ritrova ancora vergine a venticinque anni. La sua famiglia e i suoi amici le danno il tormento per questa storia, e William non potrebbe fare la sua apparizione in un momento migliore.
Un uomo davvero bello, molto bello. Ti ha preso la ciliegia e deflorata in un colpo solo. Complimenti.
William ha un piccolo problemino, è cleptomane. Adora rubare gli oggetti alle persone, in particolare a quelli che gli hanno fatto un torto o lo hanno fatto arrabbiare. In realtà Hailey non l'ha fatto arrabbiare ma lui vuole lo stesso rubarle la virtù, o come si suole dire, la sua ciliegina.
La reputazione di William però non è delle migliori per quanto riguarda le sue relazioni con le donne, per questo la bella pasticcera è restìa a fidarsi. William dovrà insistere e dimostrare di essere un bravo ragazzo per riuscire a rubare il cuore alla sua bella.
Ti può piacere qualcuno, e questo sentimento assomiglia a un seme che ha messo radici nel terreno. Finché quel semino non comincia a crescere, non puoi sapere quali potenzialità possieda.
Ormai con questo secondo volume mi è chiaro lo stile di questa serie, che si sta allungando sempre di più e che si sta rivelando una lettura tutto sommato piacevole.
Qui parliamo di libri di pura commedia romantica, dove il dramma non esiste e il plot twist è facilmente superato. Adoro la caratteristica principale di questi libri che li rende diversi dagli altri, e cioè questo riferimento ad un oggetto in particolare che da poi il via a tutta una serie di doppi sensi che trovo particolarmente spassosi.
Sono libri abbastanza brevi, con una storia leggera e divertente ma non particolarmente approfondita o sviluppata, e credo sia una scelta precisa dell'autrice tenerle così.
Mi è piaciuto che alla fine del libro abbia spiegato come ha iniziato questa serie, che è completamente diversa dal genere che scrive di solito, perché era in un momento difficile e l'ha usata come una sorta di terapia. Spero che questa particolare terapia possa rivelarsi utile anche per tante lettrici che se la ritroveranno tra le mani.
Un bacio,
Patty