Ciao Crazy,
oggi vi parlo di
Solo tu nell'universo
dell'autrice (presente al Rare Roma 2018)
Sara Ney
. Alcuni di voi la conoscono sicuramente per la serie
How to Date a Douchebag
edita dalla Hope Edizioni, ma questa volta torna con una nuova serie in veste
Newton Compton
.
Che ne pensate del baseball? Vi piace? Non è uno sport molto diffuso qui da noi, ma in America spopola quasi quanto il football. Se siete curiosi di saperne di più o semplicemente se siete sport romance addicted continuate a leggere!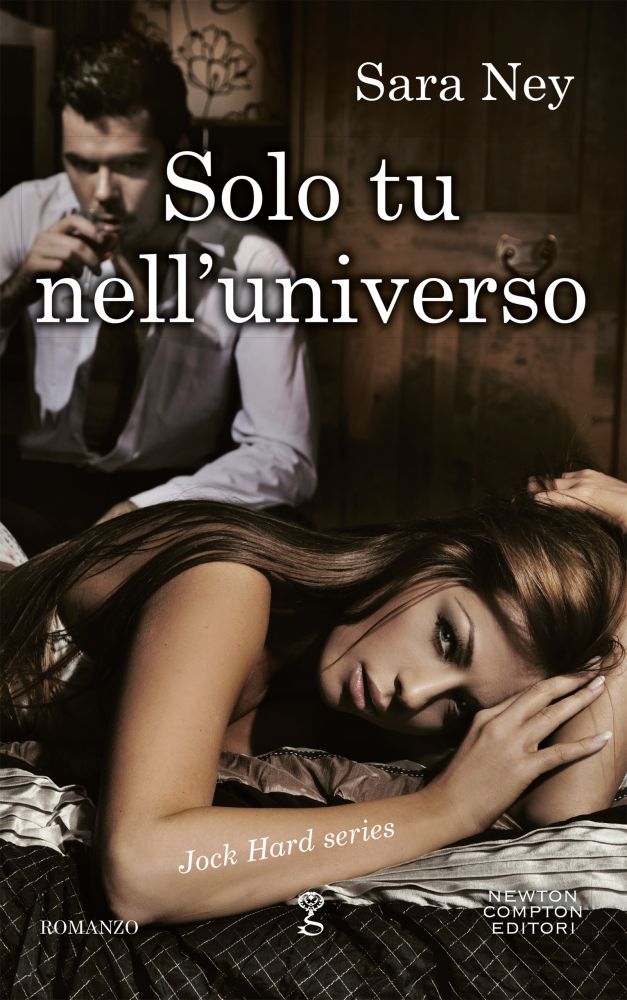 Serie Jock Hard
0.5 Switch Hitter
1.
Solo tu nell'universo
, 30 Maggio 2019
2. Jock Rule, a Dicembre 2018 in inglese
Autore:
Sara Ney
Editore:
Newton Compton
Genere:
New Adult
Categoria:
Sport romance, Collegial
Narrazione:
prima persona, doppio pov
Finale:
Autoconclusivo
Scarlett è la tipica ragazza che si offre di non bere per poter guidare a fine serata. Quella che ha sempre tutto perfettamente organizzato fin nei minimi dettagli. Quella che tiene i capelli alle ragazze quando hanno esagerato con i cocktail...
Lei e le sue amiche frequentano il Jock Row, il posto più esclusivo di tutto il campus universitario, famoso perché è lì che si concentrano tutti gli atleti del college a fine giornata. E Scarlett è, dal canto suo, una campionessa mondiale nel tenere le amiche fuori dai guai e i ragazzi a distanza di sicurezza. Ma il suo primato non tarda a causarle dei problemi: la fama di guastafeste le chiude ben presto in faccia le porte del Jock Row.
"Rowdy" Wade è la punta di diamante della squadra di baseball dell'università, nonché lo sfigato a cui è toccato l'ingrato compito di tenere Miss Perfezione fuori dalla porta del locale, per evitare che rovini altre feste con le sue stupide regole.
Peccato che Scarlett non abbia nessuna intenzione di essere lasciata fuori.
Eccoci qua. Anche in questo romanzo siamo sempre all'università dell'Iowa (ma senza un apparente legame con l'altra serie How to Date a Douchebag), questa volta ci spostiamo a conoscere un giocatore di baseball, capitano della squadra, un ragazzo dal sorriso sempre pronto e affascinante come pochi.
Sterling "Rowdy" Wade è questo e molto altro, è, diciamo, il collante che tiene unita la sua squadra, quindi quando viene interpellato per cacciare via da una festa una ragazza un po' troppo impertinente, non può fare altro che intervenire così da mantenere il quieto vivere (ed evitarsi rotture di scatole).
Ma Scarlett non è come tutte le groupie che girano intorno agli atleti avide di un pizzico di celebrità. Lei è arguta, intelligente, di certo non le manda a dire, e cavolo, di sicuro non è un'ochetta come potrebbero sembrare le due ragazze con cui si è presentata alla festa (coperta da un maglione dal colore improponibile e imbacuccata come un eschimese).
Sono un atleta, un campione.
Io gioco duro e questi piccoli giochi che ho iniziato con lei?
Rowdy nonostante tutto questo la butta fuori di casa e per assicurarsi che ci resti, si piazza anche lui in veranda e la sorveglia. Da quel momento in poi si instaura una specie di routine che vede Scarlett presentarsi ogni venerdì sera – con la segreta speranza di incontrarlo – e Rowdy che invece la aspetta sul portico con la scusa di tenerla fuori dalla vista dei compagni di squadra (come se potessimo crederci!)
L'ho trovata una cosa così dolce che mi sono sciolta, giuro. Inizieranno a conoscersi, a volersi e a frequentarsi, a quel punto l'amore è dietro l'angolo!
Non gli dico che torno per vedere lui, che non mi sento rifiutata… mi sento eccitata. Sogno di farlo tutti i giorni della settimana, mentre scivolano via e mi portano al mio preferito: il venerdì.
Sapete qual è un fattore quasi costante nei libri della Ney? Il plot twist, quando uno dei due combina un casino o qualche circostanza esterna li allontana, è praticamente inesistente. I suoi libri sono dolci, divertenti, sensuali e senza un briciolo di dramma! E, qualche volta, si ha bisogno di sorridere e basta, senza angustiarsi per qualcosa. E la Ney è abbastanza brava da non annoiare, nonostante la mancanza di colpi di scena. Avete bisogno di riprendervi da una lettura emotivamente traumatica? Questo libro è quello che fa per voi. Provare per credere.
A presto,
Sissy