Ciao Crazy,
oggi vi parlo di
That Guy
di
Kim Jones
un libro fresco e divertente edito da
Newton Compton
e in uscita oggi
29 maggio
.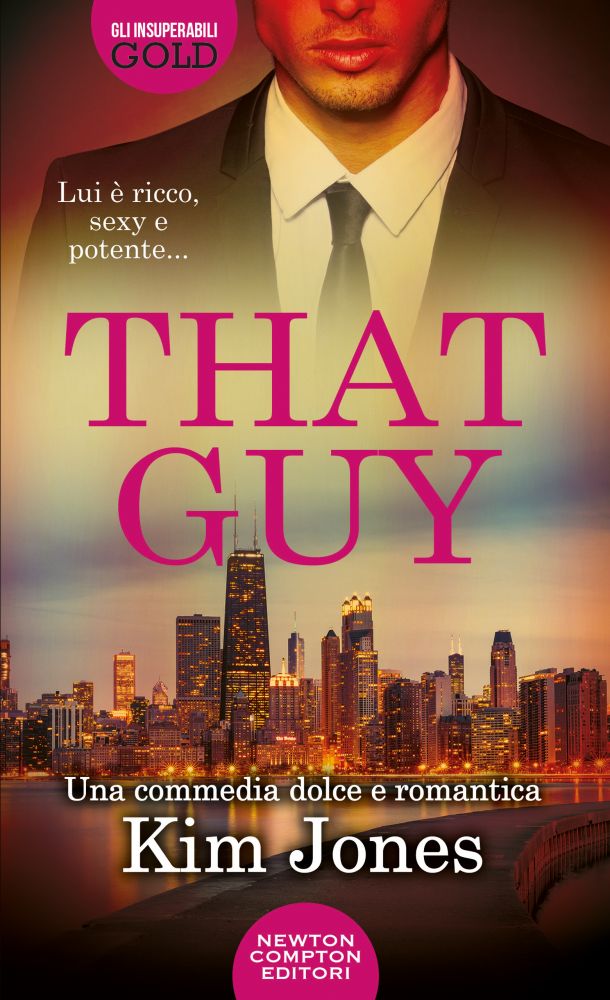 Titolo:
That Guy
Autore:
Kim Jones
Editore:
Newton Compton
Data:
29 Maggio
Genere:
Contemporary Romance
Categoria:
Comedy
Narrazione:
Prima persona, Pov femminile
Finale:
no cliffhanger
Se il ragazzo perfetto esiste
Perché farselo scappare?
Avete presente quel tipo di ragazzo? Il frutto delle vostre fantasie più romantiche, il classico protagonista dei libri. È ricco, potente e, ovviamente, sexy. Vive in un appartamento stupendo, sa essere irritante ma solitamente ha un buon motivo nascosto nel passato a giustificare il suo comportamento. Ero convinta anche io che non esistesse. E invece ho conosciuto Jake.
Mi chiamo Penelope e sono una scrittrice. Ho trascorso anni alla disperata ricerca di un uomo che fosse all'altezza dei miei protagonisti e adesso che so che esiste, ho una missione: farlo innamorare perdutamente di me. Non dovrebbe essere un'impresa troppo difficile. Certo, ho i miei difetti, ma sono sicura di potercela fare. C'è solo un problema: ho fatto una stupidaggine e adesso Jake mi odia. Ma sfortunatamente per lui… ho deciso che è quello giusto per me. E in un modo o nell'altro riuscirò a conquistarlo.
Ho riso, mi sono divertita, ho trovato molte scene irriverenti, sottili e comiche: insomma That Guy è stata una bella scoperta, una sorpresa piacevole.
Pensate che questo basti a consigliarvi questo libro? Assolutamente no, perché That Guy, per quanto sia piacevole, ha un gigantesco limite.
Mi spiego meglio; la storia narra di questa ragazza sfrontata, simpatica, molto ironica che con un bel sacchetto di merda di cane tra le mani si imbatte in LUI, quel LUI che alberga i romanzi romance, quel LUI ricco, sfrontato e con un pene grande quanto una lattina di birra da mezzo litro che ogni lettrice vorrebbe conoscere nella vita reale.
Penelope, la LEI in questione, non è però la romantica eroina elegante e che si trova a vivere la favola quanto piuttosto la ragazza di campagna che dice troppo spesso quello che pensa, pensa spesso cose che non dovrebbe dire ed è la vera protagonista del libro.
«Ma sapete che c'è Ed Sheeran qui?»
Sento delle risatine fastidiose. «Sì, Penelope. Ed è anche un grande amico di mio marito.»
«Sei sposata con Taylor Swift?»
Mi direte voi: grazie, è un pov femminile!
E invece no. Ho letto libri dove il plot è incentrato sul racconto di un lui e invece, qui, quello che brilla, la mente che porta avanti tutto è quella femminile; il suo approccio all'amore, al sesso, all'interazione, la sfrontatezza (a tratti anche eccessiva) appartiene alla protagonista femminile.
Penelope è un po' la Julia Roberts di Pretty Woman, che si trova catapultata in un ambiente asettico e lontano dai rapporti umani, dove con tutta la sua irruenza abbatte barriere e limiti. E proprio come in Pretty Woman, a rendere interessante la storia è lei e non lui (che per inciso nonostante la bellezza e la ricchezza equiparabile a quella di Richard Gere, anche lui va alla ricerca di escort).
In questo, quindi, ho rivisto la favola e nei suoi pensieri sconci ho visto l'esorcizzare il troppo romance.
Però, tutto questo ha una parte di medaglia che non mi è piaciuta.
Lui, il protagonista della storia e delle fantasie di Penelope, accanto a lei è risultato blando, insipido.
Non mi riferisco ai cliché attorno a cui ruota la sua personalità (bello, ricco e solo), ma al fatto che con una protagonista femminile così esuberante tutto alla lunga risulta troppo poco equilibrato.
«Cosa devo fare con te, Penelope Hart?»
Insomma, avete mai avuto quell'amica che senza alcuna ragione si innamora di un tipo fichissimo che però appena apre bocca si trasforma in un sarchiapone insipido?
Ecco, Penelope è la vostra amica e Jake è il sarchiapone.
Lei mi è piaciuta.
Lui ni (bello fuori un po' vuoto dentro).
Oltre questo, però, ho trovato questo libro molto divertente, una lettura leggera che mi ha fatto ridere e che mi ha intrattenuto per qualche piacevole ora.
Devo dire che ho trovato buona anche la traduzione, quindi promuovo Penelope e i suoi pensieri perversi mentre rimando a settembre Jack (gli studenti vengono ancora rimandati? Boh!) sperando prenda qualche lezione di umorismo dalla donna di cui si innamora.
Naike